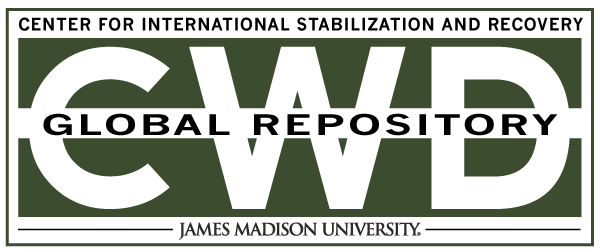 Creative Commons License

This work is licensed under a Creative Commons Attribution-Noncommercial-No Derivative Works 4.0 License.
Publication Date
Fall 11-2005
Keywords
ERW clearance, mine detection, dogs, Afghanistan
Abstract
The overall aim of the study was to explore the effects of environmental variables on mine detection by dogs. Operational mine detection dogs were used to search for mines in a test mine field, near Kabul, Afghanistan. The minefield had 114 mines laid in 30 strips (40 x 8 m). Key trial variables were mines (8 types) and laying depth (surface, 7.5, 15, 20, 25 cm). There were 4 replicates of each depthxmine combination. The key variable used in the analysis was whether a mine was found or missed by the dog. The field site was designed to ensure that dogs missed some mines, because without missed mines, a key factor in the analysis would not be available. Some mines were buried deep to ensure they were difficult to find, and the dogs did not work strictly to the MDC-Afghanistan SOP. Despite the task being made difficult, the overall find rate was similar to that found in other studies of demining systems. In total, 39 dogs were used to search for 539 mines in 5 trials, conducted in October 2002, and April, June, July and September 2003.