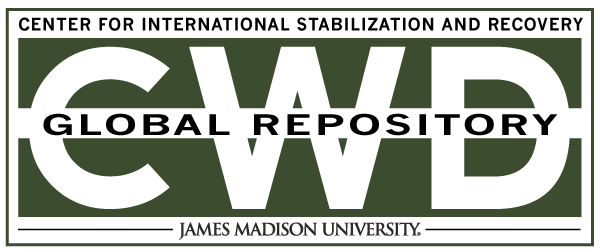 Creative Commons License

This work is licensed under a Creative Commons Attribution-Noncommercial-No Derivative Works 4.0 License.
Publication Date
Fall 9-2002
Keywords
Cambodia, victim assistance, mine action, data collection, handicap international, southeast asia, cluster munitions, mine action
Abstract
The Cambodia Mine/UXO Victim Information System (CMVIS) is an organisation of the Cambodian Red Cross (CRC) and Handicap International (HI) established to provide the continuous and systematic collection, analysis, interpretation and dissemination of information about mine and UXO casualties in Cambodia.
This evaluation of the CMVIS was conducted by an external consultant, Steven Mellor, during September 2002 under the supervision and at the request of Handicap International Belgium. The evaluation is to assist in strengthening the database functions of CMVIS; identify areas that could be improved within the system of data entry through to the output of monthly and specialised reports; and finally identify any additional areas that may improve efficiencies and/or cut costs within the project. Therefore, the consultant was based at the Data Management Office, which is situated at the headquarters of the Cambodian Red Cross office in central Phnom Penh.