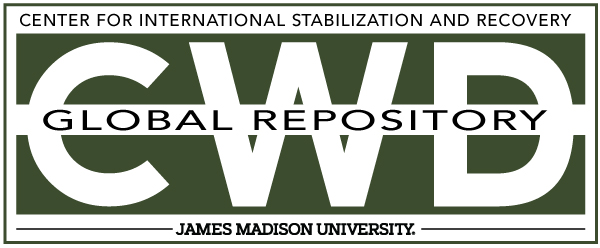 Creative Commons License

This work is licensed under a Creative Commons Attribution-Noncommercial-No Derivative Works 4.0 License.
Keywords
ERW Clearance, Kosovo, Contamination, UXO, GICHD
Abstract
In July-August 2006, the Geneva International Centre for Humanitarian Demining (GICHD) conducted a mission to Kosovo at the request of the Office of the Kosovo Protection Corps Coordinator (OKPCC). The purpose of the mission was to assess concerns raised by the HALO Trust that the extent of the remaining landmine and unexploded ordnance (UXO) contamination in Kosovo had been underestimated and, thus, provided an inadequate basis for future planning. The assessment team reviewed a sample of task dossiers, including all those identified as a concern by the HALO Trust. They found some problems with information management in the Explosive Ordnance Disposal (EOD) Management section of OKPCC, but concluded that these problems were modest and had not led to a substantial underestimate of the remaining contamination problem. Accordingly, the assessment team concluded that the OKPCC and the EOD teams of the Kosovo Protection Corps (KPC) had the capacity to address the remaining contamination. The report provided 35 recommendations covering additional research and clean-up of files; improvements in information management procedures; re-surveys of sites for which documentation was incomplete; and strengthening of the mechanisms through which members of the public can report mines, UXO, and areas suspected of contamination. The last of the recommendations was that OKPCC should budget for a monitoring mission by the UN Mine Action Service (UNMAS) or an external agency to assess progress in the implementation of the recommendations by the OKPCC EOD Management section. In early 2007, the head of the OKPCC requested that GICHD conduct this follow-up mission. In addition to an assessment on the progress in implementing the recommendations from the earlier mission, GICHD was asked to review Failing the Kosovars – a report issued by the HALO Trust in December 2006 detailing their findings to that point from a rapid survey of mine and UXO affected regions of Kosovo – and to recommend steps the OKPCC might consider to address the issues raised in that report. The GICHD mounted its second assessment mission from 11-17 February, shortly after the UN special envoy, Martti Ahtisaari, unveiled the Comprehensive Proposal for the Kosovo Status Settlement, which recommend what many analysts have termed 'supervised self-rule.' This will set in motion a broad transition of authority from organs of the international community (particularly the UN Mission in Kosovo – UNMIK – of which OKPCC is a part) to self-government authorities in Kosovo. This transition process has significant implications for the mine action programme in Kosovo.