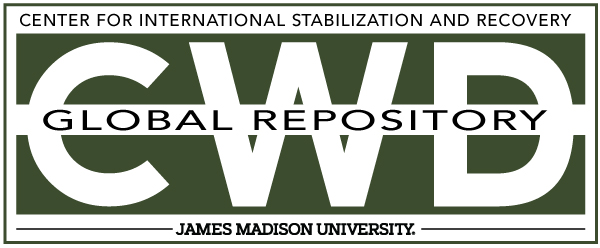 Creative Commons License

This work is licensed under a Creative Commons Attribution-Noncommercial-No Derivative Works 4.0 License.
Publication Date
Fall 9-2005
Keywords
ERW Clearance, Advocacy and International Law, Unexploded Ordnance, UXO Post-Conflict, Peacebuilding, Security, Stockpiles, Alan Bryden
Abstract
Landmines and unexploded ordnance (UXO) affect communities and individuals long after conflicts end and therefore have a profound effect on opportunities for post-conflict peacebuilding. In the immediate post-conflict phase the presence, or simply the threat, of landmines can hamper refugee return and the implementation of humanitarian assistance programmes. They pose a long-term social, economic and environmental threat that denies the use of fertile land and access to water and affects flows of people, goods and services. There is also an important security risk from abandoned explosive ordnance stockpiles or caches which, if not properly secured or destroyed following the end of hostilities, offer rich pickings for insurgents, rebel groups, criminals and other disaffected elements that mark the post-conflict landscape. This chapter assesses the complexities of governing mine action generally as well potential and actual linkages to other elements of post-conflict peacebuilding by analysing two interrelated governance issues. First, the multi-actor, multilevel nature of mine action creates barriers between different stakeholders, potential democratic deficits in decision-making processes and a knowledge gap between constituencies both at the strategic level and in the field. Second, in post-conflict peacebuilding, the involvement of the international community offers important opportunities, but also creates particular challenges.