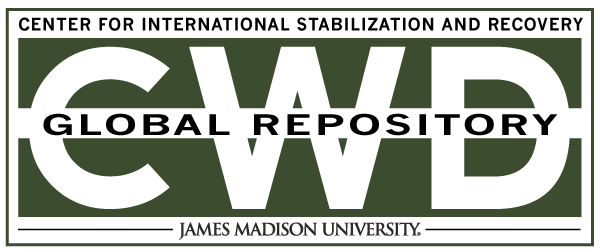 Creative Commons License

This work is licensed under a Creative Commons Attribution-Noncommercial-No Derivative Works 4.0 License.
Publication Date
Winter 1-2007
Keywords
cambodia, landmines, uxo, erw, erw clearance, land mines, demining, southeast asia, mine action, mine clearance, mines, land clearance
Abstract
Internal CIDA country case study which outlines benefits and rationale for integrating mine action into official development programming in mine affected regions. Aimed at CIDA country desk officers. Cambodia was chosen for a country case study based on criteria it met for the Government of Canada's International Policy Strategy as a bilateral country of priority and the criteria created by the CIDA Mine Action Unit: Cambodia ratified the Ottawa Convention in 1999; its mine and UXO contamination are a large obstacle in Cambodia's development of poverty reduction; and the bilateral desk has the potential to integrate mine action into their programming. The level of contamination of mines and UXO in Cambodia has become an obstacle to their development. The concentration of contamination in the rural areas, overlaps with the most vulnerable populations who are poor or at risk of poverty. As Cambodians depend primarily on agricultural production for their economic and nutritional needs, contaminated land proves to be the prime obstacle between them and a self-sustaining lifestyle for their family. Families take the chances of losing life and limb because the national rate of clearance is slow and time consuming. Unfortunately for the steady increase in population, Cambodians are being forced to move to unused land that is usually contaminated putting themselves and their families at great risk and increasing the already overburdened health system.