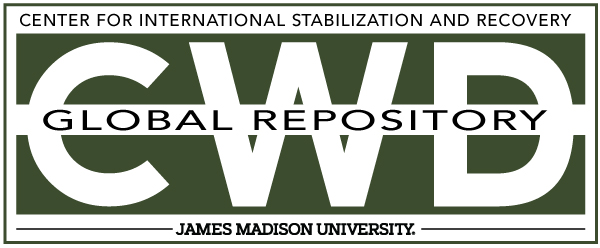 Creative Commons License

This work is licensed under a Creative Commons Attribution-Noncommercial-No Derivative Works 4.0 License.
Keywords
ERW Clearance, Afghanistan, HALO, RAPTOR, Vegetation, Mechanical Demining, Research, Development, HD R&D
Abstract
In October 2007 and May 2008, the U.S. Humanitarian Demining Research and Development Program (HD), located at Ft. Belvoir, VA., undertook the testing of the Rapid Area Preparation Tool (RAPTOR). RAPTOR is the latest of a series of area preparation systems on tractor platforms that HD has developed in the last decade. Systems, including the Severe Duty Tractor and Tools (SDTT) and Mantis, have undergone operational evaluations in Thailand, Nicaragua, and Afghanistan. The RAPTOR was developed by the HD program to handle all area-preparation tasks from vegetation cutting and removal (up to Category 3), to antipersonnel mine rolling, plowing, and cultivating, to metal clutter removal (false alarm reduction). A suite of area preparation attachments on a mine-protected platform, provide versatility and adaptation to the task and environment. In addition, capabilities for neutralization of surface-laid mines and removal of metal clutter have potential to speed mine-clearance operations.
The test assessed the performance of the vegetation-clearance, soil-preparation, and clutter-reduction attachments and the performance of the Fendt Model 918 tractor as RAPTOR's prime mover. Through the course of the testing, the Loftness vegetation cutter, the Krause 4830 chisel plow, the Miskin parabolic subsoiler, the Unverferth spring cultivator, the Army-fabricated Power Harrow with Magnet, and SETCO Jelly Belly AP mine-blast resistant tires were evaluated. Testing at a U.S. Army facility began in October 2007 with vegetation cutting and plowing, but when the ground became too wet for the tractor to operate the plows, the test was suspended until spring. Testing resumed in May 2008 with soil preparation, clutter reduction, and the SETCO Jelly Belly tires, which are designed to perform better in loose and wet soil.