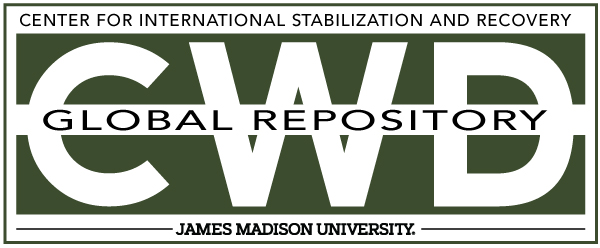 Creative Commons License

This work is licensed under a Creative Commons Attribution-Noncommercial-No Derivative Works 4.0 License.
Keywords
ERW Clearance, HALO, Mantis, Mechanical Demining, Research, Development, HD R&D
Abstract
The success of the Mine Clearing Survivable Vehicle (MCSV) Proof of Performance Test was the result of the efforts of a large team of people from a number of organizations. The organizations involved were the U.S. Army's Night Vision and Electronic Sensors Directorate (NVESD) Humanitarian Demining (HD) Research and Development Office located at Ft. Belvoir, Virginia; the International Test and Evaluation Program for Humanitarian Demining (ITEP); and Pearson Engineering Ltd, Newcastle Upon Tyne, UK. This test was also a U.S. sponsored ITEP Test (ITEP Work Plan Number 3.2.5.). During the first phase of testing in August 2004, the Project Director, Mr. Charles Chichester, assisted by Ms. Karin Breiter, directed and oversaw the performance test of the MCSV tractor and each of the tools available at the time. During the second phase of testing in early December 2004, which was conducted with tools not available in August, Mr. Peter Reed (NVESD) was the Test Engineer. In addition to the U.S., the other ITEP participant assisting in this test was the UK, represented by Mr. Peter Blatchford and Mr. Steven Bowen from QinetiQ, Ltd., United Kingdom. Mr. Eric Read and Mr. Graham Rutherford from Pearson Engineering, Ltd., provided technical and operational insight and maintenance support for the MCSV tractor and family of tools. The operators were SFC Lawrence Jones, Mr. Christopher Andres, and Mr. Ronald Collins. Mr. Art Limerick, a member of the Development Site test staff, rendered test support in the field. Mr. Harold Bertrand, of the Institute for Defense Analyses (IDA), provided technical test support and was the author of this report.