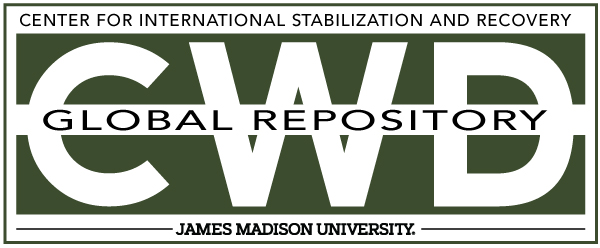 Creative Commons License

This work is licensed under a Creative Commons Attribution-Noncommercial-No Derivative Works 4.0 License.
Keywords
ERW Clearance, Mine, Neutralization, System, Mechanical, Demining, Institue for Defense Analysis, HD R&D
Abstract
During the Fiscal Year 2003 Humanitarian Demining Research and Development Program Requirements Refinement Workshop, expert deminers expressed a need for a costbenefit and performance analysis for currently available deflagration (burning) and high-order (non-explosive binary mixture) mine neutralization systems, which carry fewer shipping restrictions compared with tradition explosives commonly used for mine neutralization. In response to this request, the U.S. Army Communications-Electronics Command (CECOM) Acquisition Center-Washington, D.C., published a Federal Business Opportunities (FBO) (formerly Commerce Business Daily) announcement (solicitation number W909MY-04-T0003) on 21 January 2004 on behalf of the Communications-Electronics Research, Development and Engineering Command (CERDEC), Night Vision and Electronic Sensors Directorate (NVESD), Countermine Division, Humanitarian Demining Branch, stating that the government was seeking sources for nondevelopmental, high-order or deflagration mine neutralization systems suitable for use in humanitarian demining operations. U.S. and foreign companies responded to this FBO announcement. In addition to mature, nondevelopmental systems, three developmental systems were submitted for consideration. These newer systems were deemed promising enough to be evaluated for their demining potential. A description of these devices and a summary of test findings are included in Appendix B. Of the mature, nondevelopmental systems submitted for consideration, 6 deflagration systems, which included 7 different devices, and 7 high-order systems, which included 11 different devices, were selected for further evaluation. Although the original intent had been to evaluate only non-explosive binary mixtures for high-order neutralization, two of the seven high-order systems used RDX-propelled shaped charges.
A capability demonstration of these deflagration and high-order systems was conducted at a government test facility during the August to October 2004 time frame. This demonstration evaluated only hand-held systems. The results of this mine neutralization capabilities demonstration are the subject of this report.