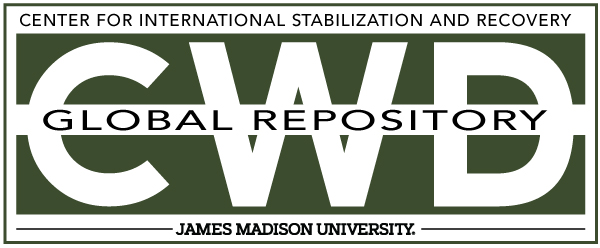 Creative Commons License

This work is licensed under a Creative Commons Attribution-Noncommercial-No Derivative Works 4.0 License.
Keywords
ERW Clearance, Cultivator, Sifter, Research, Development, Mechanical, Demining, HD R&D, Institute for Defense Analysis
Abstract
As the result of field experience gained in Egypt and Angola, the Humanitarian Demining Program Management Office (HDPMO) of the U.S. Army Research, Development and Engineering Command (RDECOM), Communications-Electronics Research, Development and Engineering Center (CERDEC), Night Vision and Electronic Sensors Directorate (NVESD) undertook the design and fabrication of a heavy-soil cultivator to lift buried antitank (AT) and antipersonnel (AP) mines to the surface and move them off to the side in windrows. This unit was designated the Mine Clearing Cultivator (MCC). In addition, in 2002, the HDPMO also tested the ability of a modified agricultural sifter to remove mines from moderately loose, sandy soil, separate the mines from the soil, and accumulate the mines to one side of the track being cleared. It was thought that by combining the two pieces of equipment in a toolkit fashion, the cultivator and the sifter, that 100% of the mines in an area could be recovered.
The objective of this test program is to determine the ability of the Mine Clearing Cultivator and Mine Clearing Sifter (MCC/MCS) to clear a minefield by bringing buried AT and AP mines to the surface and accumulating the mines in windrows to both the left and right of the cultivator. The mines remaining in the cultivated soil but not visible to test observers or equipment operators, as well as mines buried in the windrows, will be removed by the soil sifter. While the sifter can be configured to deposit mines to either the left or right, for this test, the sifter was configured to deposit mines to the left. The transportability and mobility of the system for logistical purposes and human factors issues (e.g., camera visibility and operator training) were examined. Maintenance and equipment factors (e.g., fuel/oil consumption and implement changing time) were recorded.