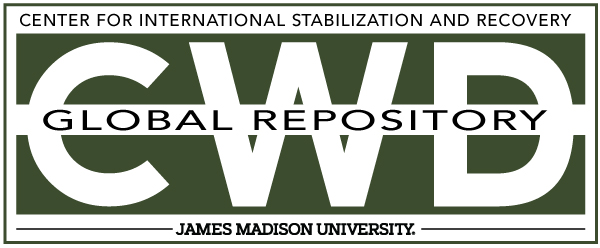 Creative Commons License

This work is licensed under a Creative Commons Attribution-Noncommercial-No Derivative Works 4.0 License.
Keywords
ERW Clearance, Analysis, Humanitarian Demining, Needs Assessment, Mine Action Information Center, MAIC, Center for International Stabilization and Recovery, CISR, JMU, James Madison University
Abstract
The Humanitarian Demining Information Center (HDIC) at James Madison University is developing a plan for identifying, analyzing, enhancing, and disseminating electronic and hard copy information relating to humanitarian demining. The first step toward realizing this objective was identifying the information needs, information availability and optimal methods for organizing and delivering information to the humanitarian demining community.
Broadly conceived, the humanitarian demining community consists of ten components.
• U.S. government agencies that have as part of their mission the development of programs for humanitarian demining in selected countries • volunteer organizations that are directly involved in the task of humanitarian demining • for-profit organizations that are directly involved in the task of humanitarian demining • those who devise or provide technologies for this activity • volunteer organizations whose primary mission is that of providing short emergency aid or long term development assistance to victims of natural disasters and civil unrest that brings them into contact with the landmine threat • organizations whose interest in the field of humanitarian demining lies in the area of public advocacy • academic and research organizations whose involvement in humanitarian demining is largely tangential through their broader interest in world politics • relief organizations that have a sustained and direct exposure to humanitarian demining projects • UN or international organizations' agencies that are charged with demining as a subset of responding to complex human emergencies and promoting disaster prevention and preparedness • Local or host government agencies that provide an indigenous capability to undertake humanitarian demining operations
Data from these organizations was obtained by a variety of means including: telephone surveys, analysis of printed material, analysis of organizational web sites, a conference on humanitarian demining held at James Madison University, and a survey of the existing literature on humanitarian demining. When significant differences exist in the nature of the response by these organizations to the questions asked in the telephone survey or in their printed material and web sites, these differences are noted in the analysis.