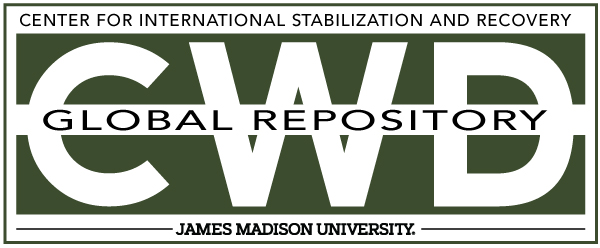 Document Type
Presented Paper
Creative Commons License

This work is licensed under a Creative Commons Attribution-Noncommercial-No Derivative Works 4.0 License.
Keywords
Advocacy and International Law, Civil Affairs, Mine Action, Landmine, Demining, HMA, Mine Action Information Center, MAIC, Center for International Stabilization and Recovery, CISR, JMU, James Madison University
Abstract
This study, "The Role of Civil Affairs in Mine Action," is not intended to be read from cover to cover by most users. It has been researched and written with three target audiences in mind: 1) the Mine Action official who would like to learn more about the application of Civil Affairs capabilities to humanitarian demining activities, 2) the Civil Affairs officer who would like to learn more about challenges and actions within the realm of humanitarian demining operations, and 3) US military officials who have a responsibility for, or an interest in, the proper unit design and uses of CA forces.
For someone who is interested in determining the capabilities and constraints of the Department of Defense and its Civil Affairs forces, Sections III, IV and V will provide just such a tutorial. For those CA soldiers interested in understanding more about the threat of latent landmines and what that means to the US in terms of national security policy and support actions, Sections I, and II will give the necessary background.
Sections VI and VII are analytical studies, which evaluate both the pragmatic and conceptual methods of applying CA capabilities to the demining mission. These sections should help a force designer or planner to understand the real requirements and environment in which CA elements function.