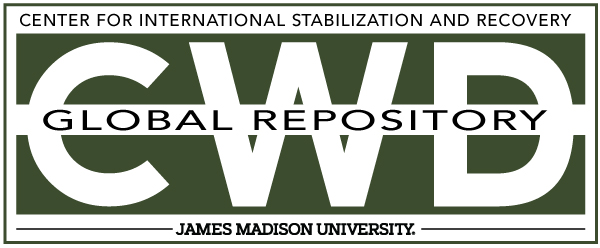 Creative Commons License

This work is licensed under a Creative Commons Attribution-Noncommercial-No Derivative Works 4.0 License.
Keywords
TWEIS, 2016, 17th Edition, Risk Education, Victim Assistance, ERW Clearance, Conventional Weapons Stockpile Destruction, Advocacy and International Law, Centers and Organizations, State Department, Humanitarian Mine Action, Landmine, Clearance, Victim Assistance, Risk Education, Funding, PM/WRA, MANPADS, HMA, Training, Research, Development, PSSM, CISR
Abstract
Supporting conventional weapons destruction (CWD) is a cornerstone of our national security policy. This 2016 edition of To Walk the Earth in Safety highlights the United States programs, managed primarily by the Office of Weapons Removal and Abatement in the U.S. State Department's Bureau of Political-Military Affairs (PM/WRA), that keep weapons and ammunition out of the wrong hands and assist nations in clearing landmines and unexploded ordnance (UXO).
The dangers posed by mines and UXO can linger for decades. In areas reeling from recent fighting, stabilization and humanitarian assistance efforts are effectively blocked until key sites are cleared of explosive hazards. Civilian populations near contaminated land could face permanent injury or death by performing everyday activities such as accessing clean water or walking to work or school.
Our programs continue to evolve to reflect changes on the ground. On the one hand, casualties from factory-made anti-personnel landmines have fallen steadily in recent years, which is very good news. We can be proud that investments in mine action and the hard and dangerous work of the demining teams has paid off, clearing contaminated land in many places and making it safe for communities to return and resume their livelihoods.