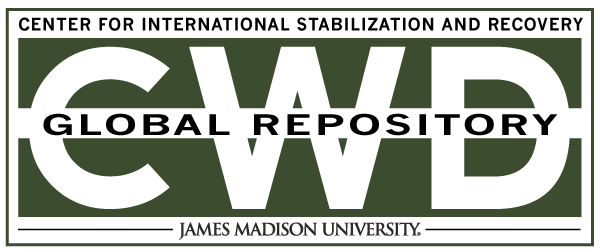 Creative Commons License

This work is licensed under a Creative Commons Attribution-Noncommercial-No Derivative Works 4.0 License.
Keywords
Centers and Organizations, UNICEF, United Nations Children's Fund, Annual Report, 2013, Humanitarian Mine Action, HMA
Abstract
2012 was a year of recognizing results for children. As the Millennium Development Goals deadline approaches, we have cause to celebrate declining poverty rates, the near eradication of polio, increased immunizations, more girls attending school, improved access to clean water and nutrition, and more children surviving and thriving beyond their fifth birthdays than ever before.
But results are no excuse for rest. Too many children continue to struggle, clinging to the lowest rungs of the development ladder: a boy missing out on a vaccination because he lives in a remote, hard-to-reach community; a girl denied her rightful place in the classroom; parents trapped in conflict zones, desperate for food, water and medicine for their children; and millions of children socially excluded because of their gender or ethnicity, or because they have a disability.
These children must be reached. In 2012, we set out to reach more of them by targeting our programmes all the more on these children, streamlining our operations and harnessing innovations in order to deliver greater, more cost-effective results.
We celebrated the launch of Committing to Child Survival: A Promise Renewed, an exciting new chapter in the global movement to end preventable child deaths. By the end of 2012, 168 governments and more than 400 representatives from civil society and faith-based organizations pledged to redouble efforts to give every child the best possible start in life.
Humanitarian emergencies continued to dominate headlines – and much of our organization's attention. In all, UNICEF and its partners responded to 286 humanitarian situations in 79 countries. For example, we provided almost 19 million people with access to clean water, and in the Sahel, treated more than 920,000 children under the age of five who were suffering from severe acute malnutrition.
To help the children and families caught up in the horrific conflict in the Syrian Arab Republic, UNICEF worked with partners there and in nearby countries to supply vaccines to more than 1.4 million children against measles, to deliver winter provisions, medicines and non-food items to more than 263,000 people, and to provide an uninterrupted education for some 79,000 affected children. This assistance included the growing number of refugees beyond the country's borders.
We also brought increased accountability and transparency to our business functions by joining the International Aid Transparency Initiative and expanding public disclosure of internal audit reports, evaluations and country office annual reports.
After a thorough review of results achieved and a vigorous debate around future goals, we are finishing a new strategic plan for 2014–2017 that places equity for children at its centre. Our goal is to reach every child, everywhere, no matter how distant or remote, no matter what barriers stand in the way.
We will not reach this goal without your support. Despite these challenging economic times, you have given our work an unmistakably clear vote of confidence through increased financial support. Your dedication to UNICEF's mission is a critical investment in the future of the world's children. An investment we must make, for their sake and ours.