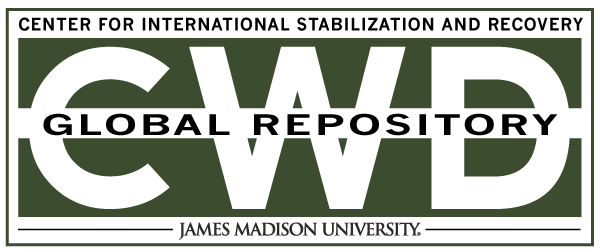 Creative Commons License

This work is licensed under a Creative Commons Attribution-Noncommercial-No Derivative Works 4.0 License.
Keywords
Centers and Organizations, Marshall Legacy Institute, MLI, 2011, Annual Report, Mine Detection Dog, MDD, Humanitarian Mine Action, HMA
Abstract
This past year has been one of accomplishment and growth for the Marshall Legacy Institute. We provided critically needed assistance to some of the most landmine-affected regions of the world. Our Mine Detection Dog Partnership Program (MDDPP) put 22 lifesaving dogs into service in Afghanistan, Angola, and Sri Lanka. Our Children Against Mines Program (CHAMPS) engaged thousands of American schoolchildren on an important global humanitarian issue and linked them with their peers in mine-affected communities. Dozens of landmine survivors received medical assistance and vocational training through our Survivors' Assistance programs in Afghanistan, Iraq, Vietnam, and Yemen, while at-risk populations in Bosnia-Herzegovina received Mine Risk Education through an innovative partnership with the Fantomi Sitting Volleyball team comprised of inspirational landmine survivors.
History has shown that the end of violence cannot be the beginning of peace when chaos, desperation, and fear prevail. Landmines, which may lie hidden beneath the soil for decades, force families to make intolerable decisions. Parents weigh the possibility of injury or death from mines as they tend the land to place food on their tables. Children risk life and limb as they walk to school or play in the fields. While threatening hundreds of thousands daily, landmines also inhibit access to critical resources, prevent the return of the internally displaced, and impede agricultural production and infrastructure development, thereby stifling the economic activity that leads to peace and stability.
MLI's work in war-torn countries offers sustainable solutions that provide hope and empowerment for a brighter future. Through cooperation and partnership with the U.S. Government, international mine-action organizations, indigenous demining groups, and concerned citizens, we continue to help eliminate the humanitarian dangers and destabilizing effects of landmines and other explosive remnants of war.
Together, our efforts can replace landmines and fear with opportunity and hope. As we enter 2012, I look forward to continue building upon the generous public and private support that enables MLI to help create a better and safer world free of landmines.