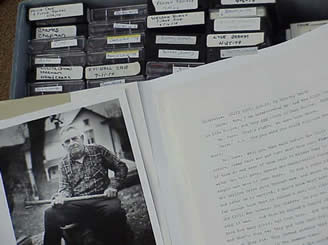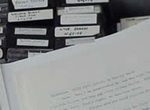 Interviewee
Burrill, Edna E.
Format
1 audio file (running time: 0:30:06) :
Location of Interview
Mrs. Burrill's home in Luray, Page County, Virginia
Date of Interview
6-16-1986
Description
Records an interview with Edna Elizabeth Burrill, (née Browning), regarding her uncle, James Burrill, who sold a large parcel of land to the state of Virginia in the 1930s to be used for Shenandoah National Park. Mrs. Burrill is joined by her two daughters, Mary Ellen Jennings and Gladys Peaches Burrill, both of Luray, Va. James Burrill was born in Leeds, England, around 1850 and emigrated to the United States as a young man. Burrill soon established himself in America and sent for his wife Ellen, also of Leeds, to join him. Over the next thirty years, James Burrill would achieve great success in a number of business opportunities which enabled him to act as benefactor for numerous civic and commercial ventures in Page County. Mrs. Burrill recalls her uncle's sale of land, estimated at 4,200 acres, to the state at prices ranging from $2.50 to $10.00 dollars per acre. Also mentioned is James Burrill's contribution to the establishment of the Deford Tannery, (later known as Virginia Oak Tannery), and the founding of Christ Episcopal Church of Luray.
Rights
Reproduction for publication, exhibition, web display or commercial use is only permissible with the consent of James Madison University's Libraries & Educational Technologies' Special Collections (540) 568-3612, library-special@jmu.edu.
Personal Names
Burrill, Edna E., (Edna Elizabeth), 1896-1988, Interviews; Burrill, Gladys C., (Gladys Catherine), 1926-2005, Interviews; Burrill, Mary Ellen, Interviews; Burrill, James, 1850?-1928; Burrill, Ellen
Family Names
Burrill family
Subjects
Christ Episcopal Church of Luray (Va.); Deford Tannery (Luray, Va.); Immigrants -- Virginia – History; Land use -- Government policy -- Virginia
Place Names
Page County (Va.) – History; Shenandoah National Park (Va.) -- History, Local
Interviewer
Lambert, Darwin, 1916-2007
Transcriber
Gutschall, Chelsea
Collection Title
Shenandoah National Park oral history collection
Collection Number
SdArch SNP, (formerly SC# 4030)
Recommended Citation
SdArch no. SNP-20, Shenandoah National Park Oral History Collection, SdArch SNP, (SC# 4030), Special Collections, Carrier Library, James Madison University, Harrisonburg, Va.