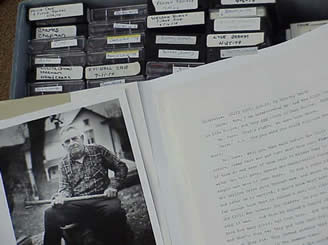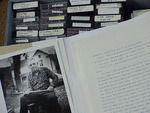 Title
(SNP 095) Magdalene Mooney interviewed by Gloria Updike - RESTRICTED
Interviewee
Mooney, Magdalene,
Format
1 audio file (ca. 59 min.) :
Date of Interview
2-17-1999
Description
Records an interview with Magdalene Mooney, (née Simonpietri), who lived and worked at Skyland resort from 1933 to 1935. Describes life at Skyland, the guests and the resort's flamboyant owner, George Freeman Pollock. Includes several anecdotes regarding Pollock's wife, Addie Nairn Pollock, as well as the grand opening of North district of Skyline Drive.
For access to this interview, please contact JMU Special Collections (library-special@jmu.edu, or (540) 568-3612). Please reference the interview number SNP 095 when submitting your request.
Rights
Reproduction for publication, exhibition, web display or commercial use is only permissible with the consent of James Madison University's Libraries & Educational Technologies' Special Collections (540) 568-3612, library-special@jmu.edu.
Personal Names
Mooney, Magdalene, Interviews; Pollock, George Freeman, 1869-1949 -- Anecdotes; Pollock, Addie Nairn, 1875?-1944 -- Anecdotes.
Family Names
Mooney family
Place Names
Page County (Va.) – History; Madison County (Va.) – History; Shenandoah River Valley (Va. and W. Va.) -- Manners and customs; Shenandoah National Park (Va.) -- History, Local; Skyland (Va.) – History; Skyline Drive (Va.) – History; Blue Ridge Mountains -- Economic conditions.
Interviewer
Updike, Gloria
Collection Title
Shenandoah National Park oral history collection
Collection Number
SC# 4030
Recommended Citation
SdArch no. SNP-95, Shenandoah National Park Oral History Collection, SC# 4030, Special Collections, Carrier Library, James Madison University, Harrisonburg, Va.