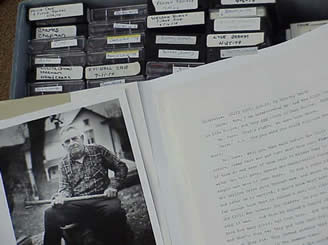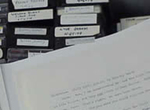 Interviewee
Somers, Clarence O.,
Format
1 audio file (running time: 0:36:37) :
Location of Interview
The home of Mr. and Mrs. Somers.
Date of Interview
9-11-1976
Description
Records an interview with Clarence Somers, who planted and maintained the Judd Gardens at Skyland Resort from 1922 to 1945. Judd Gardens were named for George and Marianna Judd of Washington, DC, who owned several lots and cabins at Skyland, including the land where the gardens were laid out in 1910. Mrs. Judd was allowed to remain at Skyland after the property was incorporated into Shenandoah National Park in 1936, until her death in 1958. The gardens were abandoned by order of the National Park Service in 1945. The interview consists chiefly of comparisons of plants and trees found at during a recent botanical survey of the site of the gardens, conducted by Jim Cotter of the National Park Service, with Mr. Somers' recollection of the garden plantings through 1945. Comments by a woman identified only as Mrs. Somers, (believed to be Beulah V. Somers, (née Sours)), occur throughout the interview, as do references to George F. Pollock, owner of Skyland Resort.
Rights
Reproduction for publication, exhibition, web display or commercial use is only permissible with the consent of James Madison University's Libraries & Educational Technologies' Special Collections (540) 568-3612, library-special@jmu.edu.
Personal Names
Somers, Clarence O., (Clarence Otis), 1900-1986, Interviews; Somers, Beulah V., 1902-1987, Interviews; Judd, George H. (George Herbert), 1860-1928; Judd, Marianna, d.1958; Pollock, George Freeman, 1869-1949 – Anecdotes.
Family Names
Summers family; Judd family
Subjects
Gardens -- Virginia -- History; Gardens -- Virginia -- Skyland
Place Names
Judd Gardens (Skyland (Va.) – History; Skyland (Va.) – History; Skyline Drive (Va.) – History; Page County (Va.) – History; Shenandoah National Park (Va.) -- History, Local.
Interviewer
Smith, Dorothy Noble, 1915-1999; Cotter, Jim
Transcriber
Shapiro, Jeanette
Collection Title
Shenandoah National Park oral history collection
Collection Number
SdArch SNP, (formerly SC# 4030)
Recommended Citation
SdArch no. SNP-35, Shenandoah National Park Oral History Collection, SdArch SNP, (SC# 4030), Special Collections, Carrier Library, James Madison University, Harrisonburg, Va.