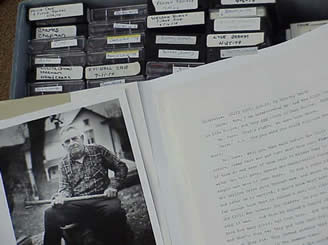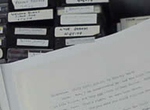 Interviewee
Mundy, Sattie D.,
Format
1 audio file (running time: 01:04:57) :
Location of Interview
Port Republic, Va.
Date of Interview
8-18-1978
Description
Records an interview with Sattie Mundy, (née Good), who spent several summers as a young girl at the Black Rock Springs Hotel, in Black Rock Gap, Virginia. The Black Rock Springs Hotel was a popular tourist destination in the late 19th and early 20th centuries, both for its scenic views and for the natural mineral springs for which it was named. Mrs. Mundy recounts her memories of the grounds and buildings and the popularity of the site in the years following the hotel's destruction by fire in 1909. Includes references to people associated with the hotel and springs, as well as many of the families and local people who lived near the hotel in its heyday. The site where the hotel stood was incorporated into Shenandoah National Park in the 1930s. Also contributing to the interview were Mrs. Mundy's daughter and son-in-law, Marie and Jay Bowman.
Rights
Reproduction for publication, exhibition, web display or commercial use is only permissible with the consent of James Madison University's Libraries & Educational Technologies' Special Collections (540) 568-3612, library-special@jmu.edu.
Personal Names
Mundy, Sattie D., (Sattie Della), 1890-1986, Interviews; Bowman, Marie N., Interviews; Bowman, J. Jay., (Jacob Jay), 1971-2005, Interviews
Family Names
Mundy family; Good family; Bowman family
Subjects
Black Rock Springs Hotel (Va.) -- History; Mountain people -- Blue Ridge Mountains -- Social life and customs; Mountain people -- Virginia -- Shenandoah National Park -- Social life and customs
Place Names
Black Rock Springs (Va.) – History; Rockingham County (Va.) – History; Shenandoah River Valley (Va. and W. Va.) -- Manners and customs; Shenandoah National Park (Va.) -- History, Local.
Interviewer
Moody, Amanda
Transcriber
Bradley, Peggy C.; Purington, Mark S.
Collection Title
Shenandoah National Park oral history collection
Collection Number
SdArch SNP, (formerly SC# 4030)
Recommended Citation
SdArch no. SNP-98, Shenandoah National Park Oral History Collection, SC# 4030, Special Collections, Carrier Library, James Madison University, Harrisonburg, Va.