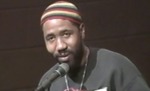 Title
Furious Flower 1994 Conference Supercut Part 2
Date of Creation
9-29-1994
Description
01:09 Elizabeth Alexander reads "LA by Night" (video is glitchy); 02:47 Gerald W. Barrax reads "And Tell the Girls to Pray for Me" and two other poems; 04:10 video regains normalcy; 19:20 Toi Derricotte speaks and reads; 36:55 E. Ethelbert Miller reads "Rebecca" and other poems; 50:25 John Keene opens panel to discussion; 50:53 Darrell Stover addresses panel; 54:44 unidentified speaker addresses panel; 56:50 Joanne V. Gabbin closes out session; 57:30 cut; 58:05 unidentified speaker introduces panel; 58:27 Samuel W. Allen speaks and reads; 1:20:00 Pinkie Gordon Lane speaks and reads; 1:37:43 Haki R. Madhubuti speaks and reads; 1:54:43 Naomi Corneilia Long Madgett speaks and reads, video cuts out while Madgett is reading
Creator
Furious Flower Poetry Center
Contributors
Alexander, Elizabeth (speaker); Barrax, Gerald W.(speaker); Derricotte, Toi (speaker); Miller, E. Ethelbert (speaker); Keene, John (speaker); Stover, Darrell (speaker); Gabbin, Joanne V. (speaker); Allen, Samuel W. (speaker); Lane, Pinkie Gordon (speaker); Madhubuti, Haki R. (speaker); Madgett, Naomi Corneilia Long (speaker)
Collection Number
UA 0018
Digital Origin
reformatted digital
Type of Resource
moving image
Rights
Copyright for official University records is held by James Madison University; all other copyright is retained by the authors of items in these papers, or their descendants, as stipulated by United States copyright law. For more information, contact the Special Collections Library Reference Desk (library-special@jmu.edu).
Recommended Citation
Furious Flower 1994 Conference Supercut Part 2, FF0155, Furious Flower Poetry Center Conference Records, 1970-2009 (bulk 1992-2005), UA 0018, Special Collections, Carrier Library, James Madison University, Harrisonburg, VA.
Repository
Special Collections, Carrier Library, James Madison University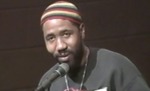 COinS