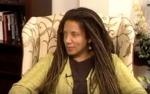 Date of Creation
9-25-2004
Description
00:10 Introduction begins; 00:40 Joanne V. Gabbin narrates; 01:35 Houston A. Baker reads "This is Not a Poem"; 02:55 Jerry Washington Ward interviews Baker; 10:51 footage of Baker speaking about Gwendolyn Brooks at Conference; 12:33 Monifa Love interviews Nikki Finney; Finney reads "Jacques Cousteau; 27:48 John H. Bracey Jr. interviews Askia M. Touré; 34:00 Toure reads "A Song for Patriots"; 38:13 Rita Dove reads "Passages"; 40:00 Camille Dungy interviews Dove; 48:16 Keith Leonard interviews Major Jackson; 50:00 Jackson reads "Urban Renewal xvi"; 58:12 Hilary Holladay interviews Lucille Clifton; 1:01:00 Clifton reads "Cancer"; 1:02:52 Clifton reads "Sunday Morning 9/16/01"
Creator
Furious Flower Poetry Center
Contributors
Gabbin, Joanne V. (speaker); Baker, Houston A. (speaker); Ward, Jerry Washington (speaker); Love, Monifa (speaker); Finney, Nikki (speaker); Bracey, John H., Jr. (speaker); Touré, Askia M. (speaker); Dove, Rita (speaker); Dungy, Camille (speaker); Leonard, Keith (speaker); Jackson, Major (speaker); Holladay, Hilary (speaker); Clifton, Lucille (speaker)
Collection Number
UA 0017
Collection Title
Digital Origin
reformatted digital
Type of Resource
moving image
Rights
Copyright for official University records is held by James Madison University; all other copyright is retained by the authors of items in these papers, or their descendants, as stipulated by United States copyright law. For more information, contact the Special Collections Library Reference Desk (library-special@jmu.edu).
Recommended Citation
Regenerating the Black Poetic Tradition (Rough Cut), 2004, FF0150, Furious Flower Poetry Center Records, 1970-2021, UA 0017, Special Collections, Carrier Library, James Madison University, Harrisonburg, VA.
Repository
Special Collections, Carrier Library, James Madison University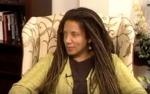 COinS