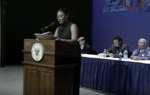 Date of Creation
9-23-2004
Description
03:26 Kalamu ya Salaam speaks; 15:00 Brenda Marie Osbey speaks; 40:25 Kevin Young speaks; 1:03:15 E. Ethelbert Miller speaks; 1:19:00 Haki R. Madhubuti speaks; 1:44:30 Lucille Clifton speaks
Creator
Furious Flower Poetry Center
Contributors
Salaam, Kaluma ya (speaker); Osbey, Brenda Marie (speaker); Young, Kevin (speaker); Miller, E. Ethelbert (speaker); Madhubuti, Haki R. (speaker); Clifton, Lucille (speaker)
Collection Number
UA 0017
Collection Title
Digital Origin
reformatted digital
Type of Resource
moving image
Rights
Copyright for official University records is held by James Madison University; all other copyright is retained by the authors of items in these papers, or their descendants, as stipulated by United States copyright law. For more information, contact the Special Collections Library Reference Desk (library-special@jmu.edu).
Recommended Citation
Thursday Poetry Reading Part 2, 9/23/2004, FF0135, Furious Flower Poetry Center Records, 1970-2021, UA 0017, Special Collections, Carrier Library, James Madison University, Harrisonburg, VA.
Repository
Special Collections, Carrier Library, James Madison University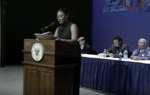 COinS