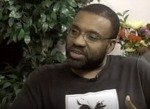 Date of Creation
9-23-2004
Description
00:00 video begins with montage of poets reading at 2004 conference; 00:35 Joanne V. Gabbin narrates; 01:32 Daryl Cumber Dance interviews Velma Pollard; 09:55 Tyehimba Jess interviews Kwame Senu Neville Dawes; 16:34 Dawes reads "Ward Twenty-One"; 20:55 Brenda Marie Osbey reads an excerpt from "The Evening News: A Letter to Nina Simone"; 27:07 Carmen Gillespie interviews Brenda Marie Osbey; 33:56 Qurayash Ali Lansana interviews Haki R. Madhubuti; 36:40 Madhubuti reads "The B Network"; 42:20 Meta DuEwa Jones interviews Elizabeth Alexander; 49:10 Alexander reads "When"; 51:45 Tony Bolden interviews Yusef Komunyakaa; 58:02 Komunyakaa reads "Ode to A Drum"; 1:02:33 Komunyakaa reads "The Same Beat"
Creator
Furious Flower Poetry Center
Contributors
Gabbin, Joanne V. (speaker); Dance, Daryl Cumber (speaker); Pollard, Velma (speaker); Jess, Tyehimba (speaker); Dawes, Kwame Senu Neville (speaker); Osbey, Brenda Marie (speaker); Gillespie, Carmen (speaker); Lansana, Qurayash Ali (speaker); Madhubuti, Haki R. (speaker); Jones, Meta DuEwa (speaker); Alexander, Elizabeth (speaker); Bolden, Tony (speaker); Komunyakaa, Yusef (speaker)
Collection Number
UA 0017
Collection Title
Digital Origin
reformatted digital
Type of Resource
moving image
Rights
Copyright for official University records is held by James Madison University; all other copyright is retained by the authors of items in these papers, or their descendants, as stipulated by United States copyright law. For more information, contact the Special Collections Library Reference Desk (library-special@jmu.edu).
Recommended Citation
Regenerating the Black Poetic Tradition, 2004, FF0138, Furious Flower Poetry Center Records, 1970-2021, UA 0017, Special Collections, Carrier Library, James Madison University, Harrisonburg, VA.
Repository
Special Collections, Carrier Library, James Madison University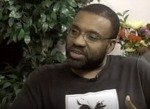 COinS