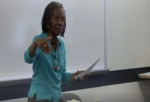 Files
Download
Access the video here (1237.3 MB)
Title
Date of Creation
6-18-2009
Description
02:15 Audience reads Lucille Clifton's "When I Stand Around Among Poets" and discusses; 09:00 Hull reads Clifton's "The Light That Came to Lucille Clifton" followed by discussion"; Hull reads "The Far Memory Sequence" poems by Clifton followed by discussion
Creator
Furious Flower Poetry Center
Contributors
Hull, Akasha Gloria (speaker)
Collection Number
UA 0017
Collection Title
Digital Origin
reformatted digital
Type of Resource
moving image
Rights
Copyright for official University records is held by James Madison University; all other copyright is retained by the authors of items in these papers, or their descendants, as stipulated by United States copyright law. For more information, contact the Special Collections Library Reference Desk (library-special@jmu.edu).
Recommended Citation
Soul Talk Part 2, 6/18/2009, FF0002, Furious Flower Poetry Center Records, 1970-2021, UA 0017, Special Collections, Carrier Library, James Madison University, Harrisonburg, VA.
Repository
Special Collections, Carrier Library, James Madison University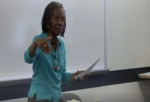 COinS