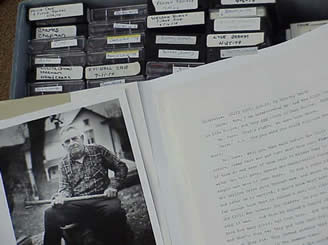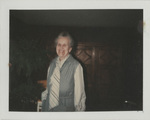 Interviewee
Franklin, Butler-Brayne
Format
1 audio file (running time: 0:31:48)
Date of Interview
10-28-1977
Description
Records an interview with Butler Franklin, (née Butler-Brayne Thornton Robinson), a direct descendant of Francis Thornton, III, who built a plantation near Sperryville, Virginia, in the 1740s. Mrs. Franklin contends that several prominent geographic features now located in Shenandoah National Park, including Thornton Gap, the Thornton River and Mary's Rock, were named for Francis Thornton and his descendants. Includes a genealogical history of the Thornton family in Virginia, from William Thornton, III, who emigrated from England in the 1640s, through Col. John Thornton, who married Jane Washington, aunt of the future first president. Discusses several Thornton estates, including Montpelier, the plantation built on the Rappahannock River near Sperryville, and the Thornton ancestral home, Fall Hill, in Fredericksburg ,where Mrs. Franklin resided at the time of the interview.
Rights
The copyright interests in this collection have been transferred to the James Madison University Special Collections Library. For more information, contact the Special Collections Library Reference Desk (library-special@jmu.edu).
Personal Names
Franklin, Butler-Brayne, 1899-2003, Interviews; Thornton, William, III, 1627-1708; Thornton, Francis, III, 1714-1749; Thornton, John, 1739-1822; Champe, John, 1752-1798 -- Anecdotes.
Family Names
Thornton family
Subjects
Montpelier (Rappahannock County, Va. : Dwelling); Fall Hill (Va. : Dwelling).
Place Names
Thornton Gap (Va.) -- History; Thornton River (Va.) -- History; Mary's Rock (Va.) -- History; Rappahannock County (Va.) -- History; Shenandoah National Park (Va.) -- History, Local.
Interviewer
Smith, Dorothy Noble, 1915-1999
Transcriber
Edwards, Victoria M.
Collection Title
Shenandoah National Park oral history collection
Collection Number
SdArch SNP
Recommended Citation
Butler-Brayne Franklin interviewed by Dorothy Noble Smith, October 28, 1977, SdArch SNP-50, Shenandoah National Park Oral History Collection, 1964-1999, Special Collections, Carrier Library, James Madison University