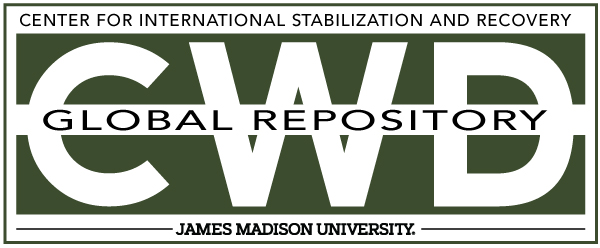 Creative Commons License

This work is licensed under a Creative Commons Attribution-Noncommercial-No Derivative Works 4.0 License.
Keywords
Centers and Organizations, GICHD, Geneva International Centre for Humanitarian Demining, Landmines, Humantarian Demining, 2017, annual report
Abstract
2017 marked the 20-year anniversary of the signing of the Anti-Personnel Mine Ban Convention, which laid the ground for coordinated mine action efforts worldwide. This treaty has become a reference agreement in both the humanitarian and disarmament fields. Today still, it provides an example of how international law can effectively contribute to a safer and more secure world. It is in this spirit that the GICHD continues to promote the universalisation and implementation of the different treaties relevant to mine action. In fact, supporting national partners towards the timely fulfilment of convention obligations and completion targets remains a priority.
However, disarmament lies not only in the negotiation and adoption of treaties. The goal of disarmament is to save lives and promote safety and security, as well as sustainable development. Mine action, specifically, is much more than just removing mines; mine action is ultimately about enabling and building sustainable livelihoods. Throughout and beyond the disarmament sector there is much to learn from mine action, which has been a people-focused, needs-driven sector for more than 20 years. What truly matters in our work are not the square meters of released land, but the fact that land is given back to productive use.
As the GICHD and the mine action sector continue to strive towards this goal, a more comprehensive response to interconnected challenges is required, in line with the spirit of the agendas for sustainable development and for peace. Demining alone is not sufficient to rehabilitate a community: we need to plan, prioritise and work in closer coordination with all humanitarian, development and human security actors.
Supporting peace mediation processes that go hand in hand with mine action efforts to create lasting peace; addressing abandoned ordnance and diversion of ammunition to counter intensified and prolonged conflict and violence; furthering the use of new technological tools that have the power to guide mine action and other decision-makers towards truly holistic action: these are but a few examples of how mine action can unite sectors in the pursuit of the sustainable development goals.
This report looks back on a busy year in which the GICHD has continued to deepen its collaborations beyond the traditional mine action sector, creating opportunities to achieve true sustainability and lasting development. The Centre will continue to capitalise on synergies across different policies and sectors that truly multiply the impact of mine action interventions.
The achievements of the GICHD would not have been possible without the extraordinary engagement of its donors and the women and men working at and with the Centre, whom we thank wholeheartedly.