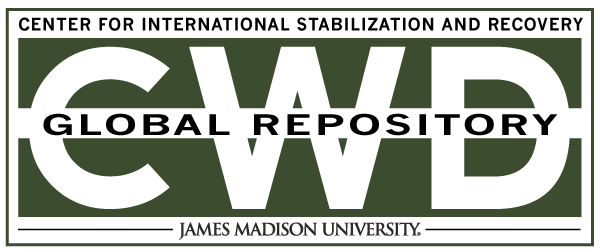 Creative Commons License

This work is licensed under a Creative Commons Attribution-Noncommercial-No Derivative Works 4.0 License.
Publication Date
Spring 3-2006
Keywords
Victim Assistance, Cambodia, CMVIS, Mine Action, Elke Hottentot, GICHD
Abstract
The Cambodia Mine/UXO Victim Information System (CMVIS) is the leading mine/unexploded ordnance (UXO) casualty collection system in the world. The data is obtained through an elaborate chain of operations that begins with an expansive volunteer network at the community level and ends with the dissemination of the data to the end-users.
The evaluation assessed the consistency of operations, CMVIS capacity for the purpose of determining degree of future involvement of Cambodian Red Cross and Handicap International Belgium; the appropriateness of the CMVIS deployment schemen and level of responsiveness to beneficiaries, and whether CMVIS humanitarian impact was maximized given its current procedures and resources.