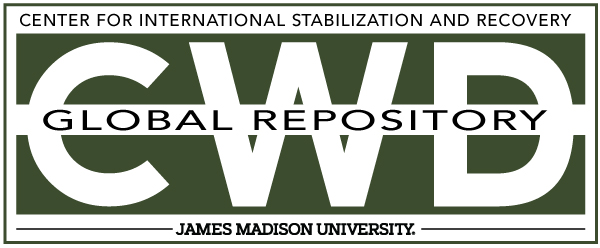 Creative Commons License

This work is licensed under a Creative Commons Attribution-Noncommercial-No Derivative Works 4.0 License.
Keywords
Risk Education, Laos, Evaluation, Contamination, UNICEF, Lao Youth Union, MAG, Mines Advisory Group
Abstract
As a result of intense ground battles and extensive bombing during the Indo-China War, especially during the years 1964 – 1973, Lao PDR has the distinction of being, per capita, the most heavily bombed nation in the world. The war left widespread unexploded ordnance (UXO) contamination, which thirty years on continues to act as a barrier to socio economic development causing death and injury to adults and children. UXO injury, especially in a country such as Lao PDR where access to adequate health services is limited, can result in long-term medical and psychological sequelae (Handicap International, 2004) as well as a huge financial burden to affected individuals, families, their communities and health services.Often, those who suffer a landmine/UXO injury are aware of the risk (International Campaign to Ban Landmines, 2000; Geneva International Centre for Humanitarian Demining, 2003).
In the Lao PDR as a response to the continuing UXO threat, the Government, with assistance from the United Nations Development Programme (UNDP) and UNICEF established the Lao PDR Trust Fund for UXO in 1995 to finance a national programme of clearance and education. In common with most other mine action programmes, the Lao national UXO programme (1996-ongoing), aims to reduce risk through survey, marking, surface and sub-surface landmine/UXO clearance and mine risk education (MRE). MRE aims to promote safety in UXO contaminated communities and in the Lao PDR has been primarily underpinned by psychological theories of behaviour change, such as the Health Belief Model (Rosenstock
1974). More specifically, UNICEF has supported MRE for children in several at risk communities in 12 of the most heavily contaminated provinces. Since 2002, this support was concentrated on implementation of two projects: the introduction of UXO awareness as an extra curricular activity within the primary school system, implemented by World Education Consortium with the Ministry of Education and 'Sport in the Box' safe play activities implemented by the Lao Youth Union (LYU).

Since the outset, UNICEF has supported continuous monitoring and evaluation, including UNICEF funded evaluations in 2000 (Delneuville, A.) and 2005 (GICHD). In 2001 UXO LAO also undertook a Knowledge, Attitude and Practice (KAP) study in 3 provinces followed by a more in depth qualitative study in one province to try and understand the contributing factors to UXO risk behaviour and injury (UXO LAO, Sisawath, B and Durham, J. 2001 and Sisawath,B. and Durham, J. 2002). In 2005 UNICEF also commissioned a study into the Scrap Metal Trade in the Lao PDR (GICHD, 2005).
An evaluation of UNICEF MRE activities was also commissioned by UNICEF in 2005 and recommended that in preparation for the next 5 year strategy, a MRE assessment be undertaken to ascertain who is currently at risk, why and what can be done to mitigate the risk.

As a result of the evaluation recommendations, this assessment aims to answer these questions. More specifically the main objectives of the assessment were:
1. To collect and analyse quantitative and qualitative data to identify who is at risk of UXO accidents, why and what can be done about it
2. To involve a range of stakeholders in the assessment
3. To provide a report based on the above which can be used to underpin the MRE strategy for the Lao PDR and for UNICEF specifically and can be used to develop measurable impact and outcome objectives and indicators
4. To provide recommendations on appropriate UXO messages and risk reduction strategies