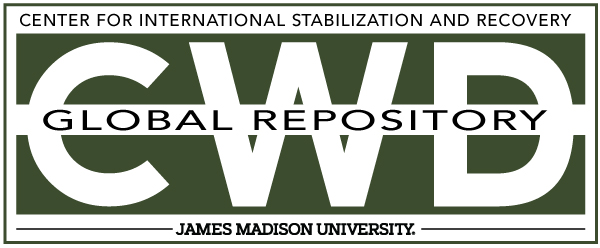 Creative Commons License

This work is licensed under a Creative Commons Attribution-Noncommercial-No Derivative Works 4.0 License.
Publication Date
Fall 10-2003
Keywords
Risk Education, Cambodia, Mine Action, European Commission, Humanitarian Aid Office, ECHO, HALO Trust, Marcel Durocher, Agim Hoti
Abstract
The European Commission Humanitarian Aid Office (ECHO) has been actively involved in mine action programs in Cambodia since 1996. ECHO recognized that there was a clear and urgent need to develop new approaches to address the needs of the most at risk communities. In mid 2002 it decided to fund three pilot initiatives with the objective of reducing mine/UXO risks and casualties in North Western Cambodia while taking into account the needs of local communities. This is an area, which recently witnessed a large influx of families from other parts of Cambodia. Many of these newcomers opted to take the risk of settling or working on highly mine/UXO contaminated land. In addition, several large rural development and infrastructure projects are planned for this area in the very near future.
This report evaluates the achievements of the three initiatives, which consisted of: (1) the Mines Advisory Group's Rapid Response Team in Preah Vihear and Otdar Meanchey provinces, (2) six Quick Response Demining Sections of the HALO Trust Organization in Otdar Meanchey and Preah Vihear provinces and (3) four HIB-CMAC Mine Risk Reduction Teams in Banteay Meanchey and Battambang provinces and the Krong Pailin administrative district.