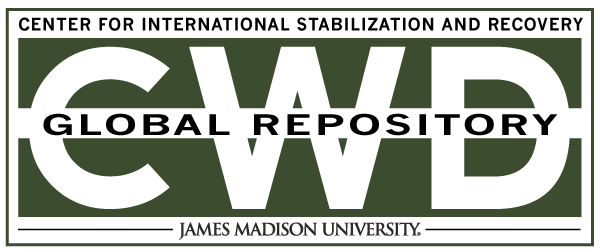 Creative Commons License

This work is licensed under a Creative Commons Attribution-Noncommercial-No Derivative Works 4.0 License.
Publication Date
Winter 1-1970
Keywords
Bosnia and Herzegovina, mine contamination, small arms and light weapons, conventional weapons stockpile destruction, victim assistance, risk education, centers and organizations, mine action, mine clearance
Abstract
Bosnia and Herzegovina (BiH) is heavily contaminated with landmines and other explosive remnants of war (ERW). There are also significant problems with small arms and light weapons (SALW), both in terms of vast unused stockpiles of weapons, ammunition and explosives - some of which is in very poor condition - and also illegal weapons ownership by an estimated 16% of the total population. A Landmine Impact Survey (LIS) in 2002-2003 revealed that about 4% of the land area and over 1300 communities were affected by mines and UXO. Clearance has been coordinated by the BiH Mine Action Centre (BHMAC) and has made progress, but has only managed to address a small percentage of the contaminated land area so far. Since 1996 UNICEF has supported mine risk education (MRE) in Bosnia and Herzegovina (BiH). The BHMAC, with support from UNICEF, has developed a sophisticated community-based mine risk analysis and mine action planning system. UNICEF has undertaken capacity building and provided funding and technical assistance to the BHMAC, local institutions and local and international non-governmental organisations. Mine and UXO casualties in BiH have steadily decreased in the last ten years. All recent casualties are due to adult men intentionally entering mined areas due to economic necessity. There were no child casualties in 2006 or so far in 2007. It is reasonable to assume that good quality MRE will tend to reduce casualties. The evaluation consisted of document analysis, field visits to affected communities and a feedback meeting with key stakeholders in Sarajevo. Capacity building, planning and programme development have all been successfully addressed. Several programmes by NGOs supported by UNICEF have brought high quality MRE to some communities but have not been able to progress from pilot programmes to sustainable large scale actions.A key achievement has been the incorporation of MRE and small arms and light weapons (SALW) risk education into the school curriculum by all 13 Ministries of Education and teaching materials have been developed - though some work remains to consolidate this. UNICEF worked with a local NGO training teachers on how to integrate MRE in everyday class activities.Analysis of the programme and strategy documents revealed areas which had not been effectively addressed - in particular the inclusion of local communities as protagonists in MRE was weak, as was the use of civil protection and other staff at municipal level. The dominant model for MRE has become de facto one of "service delivery" by professionals to the community. Standards and procedures have been developed by BHMAC to strictly regulate MRE activities. This is a significant achievement but may need revision to fully support community level action. On the basis of the low casualty rate, the limited group of risk taking males, and the established capacity there is no longer a good case for continuing previous support to MRE in BiH. However a number of specific actions are recommended including supporting volunteers in local communities and municipal level officials to make MRE efficient and sustainable. Marking hazardous areas - an action already supported by UNICEF - and in particular maintaining the signs, is also identified as a key action - according to BHMAC records in the last two years 15% of casualties have occurred in known mined areas without signs. Given the inclusion of SALW and landmine survivor assistance in the overall strategy, UNICEF is recommended to develop SALW risk reduction activities in close cooperation with the regional SALW centre, and to continue to develop the existing relationship with the Ministry of Health for LMVA.