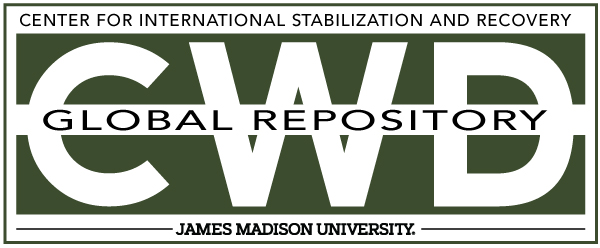 Creative Commons License

This work is licensed under a Creative Commons Attribution-Noncommercial-No Derivative Works 4.0 License.
Publication Date
Fall 10-2002
Keywords
Advocacy and International Law, Mine Action, US Foreign Policy, ERW clearance, U.S. Department of Defense, Humanitarian Demining Program, GICHD
Abstract
The United States (U.S.) Department of Defense (DoD) Humanitarian Demining Programme has four explicit goals:
1. TO ASSIST HOST NATIONS IN ESTABLISHING LONG-TERM, SUSTAINABLE, INDIGENOUS HUMANITARIAN DEMINING PROGRAMMES;
2. TO EXPLOIT THE SYNERGISM BETWEEN THE DOD HUMANITARIAN DEMINING PROGRAMME AND OTHER SIMILAR INTERNATIONAL, REGIONAL AND U.S. EFFORTS;
3. TO ESTABLISH A COMPREHENSIVE APPROACH TO PROVIDING THE APPROPRIATE EQUIPMENT, TECHNICAL DATA, AND OTHER SUPPORT TO CONDUCT MINE AWARENESS AND MINE CLEARANCE TRAINING PROGRAMMES AND, WHENEVER POSSIBLE, EQUIPMENT FOR NEWLY TRAINED PERSONNEL TO THE FIELD; AND
4. TO SUPPORT U.S. FOREIGN POLICY AND SECURITY INTERESTS.