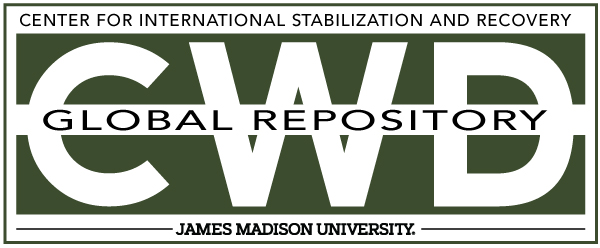 Title
Creative Commons License

This work is licensed under a Creative Commons Attribution-Noncommercial-No Derivative Works 4.0 License.
Keywords
Centers and Organizations, UNMAS, 2011, Annual Report
Abstract
In 2011, in Afghanistan, where we have the largest UNMAS programme, over 880,000 explosive items were destroyed, thus facilitating security and development initiatives. In the Democratic Republic of the Congo, more than 6,000 kilometres of roads were verified safe, contributing to freedom of movement and development. In Western Sahara, 6.8 square kilometres of land were released, marking a 242 per cent increase from 2010. In Sudan, the mine action programme was transitioned to national ownership. Newly-independent South Sudan acceded to the Anti-Personnel Mine Ban Convention. UNMAS is also engaging in ammunitions and weapons management, as endorsed by the General Assembly (A/RES/66/42). In Libya, joint efforts cleared over 125,000 pieces of ordinance and mine risk education was provided to over 46,000 Libyans living in affected areas, ensuring their security. In Côte d'Ivoire, UNMAS, together with national authorities, acted swiftly to counter the threat of abandoned or unsafely stored ammunition.