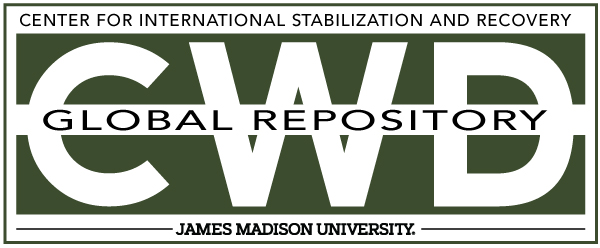 Document Type
Dissertation
Creative Commons License

This work is licensed under a Creative Commons Attribution-Noncommercial-No Derivative Works 4.0 License.
Keywords
ERW Clearance, IED, Urban Clearance, Mechanical, University of South Wales, David Parry, Dissertation
Abstract
The safe removal and disposal of conventional weapons from civilian populated areas in a post conflict scenario is fraught with dangerous, complex and wide-ranging challenges. The worldwide proliferation of improvised explosive devices has added to the existing burden of landmine clearance already being undertaken by various organizations. Part of the solution to these challenges is to remove improvised explosive devices using mechanical methods to reduce the likelihood and consequence of the risks that personnel face when carrying out this extremely hazardous task.
The mechanical removal of improvised explosive devices is an emerging methodology that is based on an established model of mechanical demining operations. While in a developmental stage, the author sought to engage with current practitioners, use recent personal experience and study the established demining model in an effort to shape the emergence and evolution of mechanical improvised explosive device removal in order to establish best practice guidance that could be shared within the conventional weapons disposal industry.
The results from this research study have identified focused topics that support an operational framework on which to base mechanical IED removal operations in the urban environment.
From this research study it is recommended that best practice guidance is used by organizations in the shaping of mechanical IED removal operations in the urban environment and that this best practice guidance is underpinned by a risk assessment giving consistency to safe working practices.