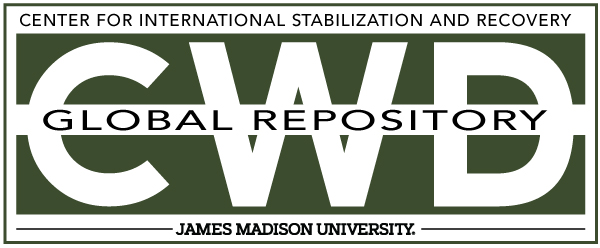 Creative Commons License

This work is licensed under a Creative Commons Attribution-Noncommercial-No Derivative Works 4.0 License.
Keywords
TWEIS, Risk Education, Victim Assistance, ERW Clearance, Conventional Weapons Stockpile Destruction, Advocacy and International Law, Centers and Organizations, State Department, Humanitarian Mine Action, Landmine, Clearance, Victim Assistance, Risk Education, Funding, 2019, 19th Edition, PM/WRA, USAID, DOD
Abstract
The United States is a strong and historic partner for affected states and a leader in donor assistance. Since 1993, the United States has provided more than $3.7 billion in CWD assistance to over 100 countries. These programs are implemented by commercial contractors, nongovernmental organizations (NGO), and international organizations. In 2019, the United States had active CWD programs in 58 countries, spanning Africa, the Middle East, South and Central Asia, Southeast Asia, Latin America, and Eastern Europe. This 19th edition of To Walk the Earth in Safety catalogs the U.S. government's achievements in CWD in each country and highlights the important partnerships building the foundation of a more secure world, in which children have the freedom to explore.