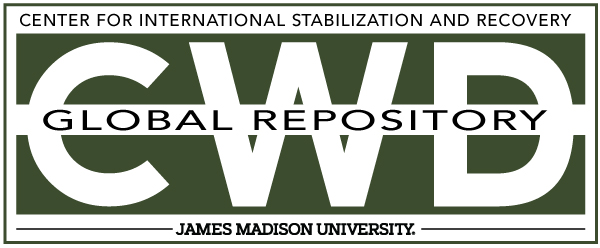 Creative Commons License

This work is licensed under a Creative Commons Attribution-Noncommercial-No Derivative Works 4.0 License.
Keywords
Victim Assistance, CISR, Mine Action Information Center, MAIC, James Madison University, JMU, Landmine, Casualty, Data, Information Management System for Mine Action, IMSMA, Mine Action, Landmine
Abstract
JMU's Mine Action Information Center (MAIC) held a workshop on May 13-14, 2002 to examine issues related to landmine victim data collection. The U.S. Department of State, Office of Humanitarian Demining Programs was the sponsor of the two-year long casualty database project conducted by the MAIC, of which the workshop was the culminating phase. Based on its research and the workshop activities, the MAIC has developed a list of "action items" which it recommends to improve the collection and management of landmine casualty data. That list immediately follows this executive summary.