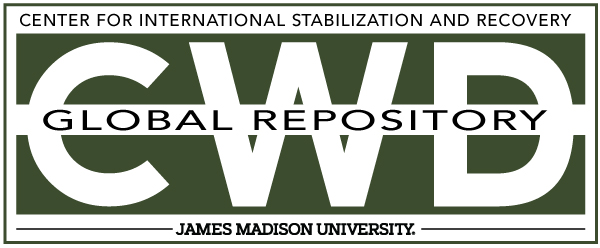 Creative Commons License

This work is licensed under a Creative Commons Attribution-Noncommercial-No Derivative Works 4.0 License.
Keywords
Conventional Weapons Stockpile Destruction, Afghanistan, EOD, Ammunition, Identification, Disposal, WAD, HALO, GICHD
Abstract
GICHD delivered an advanced level training course on ammunition identification and disposal in Kabul, Afghanistan on 16-29 April 2016. The focus of the course was to build on existing skillsets and improve the knowledge of the characteristics of NATO and other ammunition encountered in Afghanistan.
By not offering a formal IMAS explosive ordnance disposal (EOD) qualification and associated testing protocols, the course curriculum allowed flexibility. On the first day the program was customised to the assessed needs of the attendees, based on the feedback from interviews with them all. As a result the curriculum allowed, for the practicing of alternative techniques in explosive ordnance disposal for enhanced safety and efficiency in operations, for familiarisation with the ammunition safety management method, and for refresher training sessions in certain ammunition topics last taught to the attendees a decade or more ago.
The 2-week course was financed by the German Federal Foreign Office and conducted by a GICHD team of 2 advisory staff with 2 consulting experts from Fenix Insight Ltd UK, with an assisting instructor from HALO Trust.
GICHD wishes to thank MACA and DMAC for the competent administrative support and the security detail provided both before and during the course. Thank you also to the demining agencies for organising the daily transport and optimising the daily attendance by releasing the trainees for the entire duration of the course. Our special gratitude goes to the HALO Trust for the excellent work that went into arranging all the course logistics and catering, and providing the classroom, the exercise facilities and machines, training models and materials, a variety of live explosive ordnance, demolition ranges and for the daily availability of HALO's Weapon and Ammunition Destruction team with the EOD officer.
The Annex to the Report contains a participant list and photos from the training.