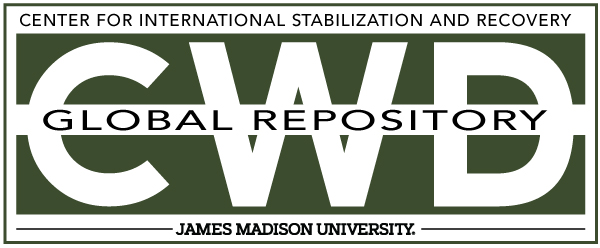 Creative Commons License

This work is licensed under a Creative Commons Attribution-Noncommercial-No Derivative Works 4.0 License.
Keywords
ERW Clearance, Metal, Detector, Nicaragua, Research, Development, HD R&D
Abstract
This final technical report details the results of a joint project between the United States Office of the Assistant Secretary of Defense for Special Operations and Low-Intensity Conflict (OASD-SO/LIC), the US Army Communications and Electronics Command (CECOM) Night Vision and Electronic Sensors Directorate (NVESD), the Organization of American States (OAS) (Organizacion de los Estados Americanos [OEA]), the Assistance Mission for Mine Clearance in Central America (la MisiÛn de Asistencia para la RemociÛn de Minas en CentroamÈrica, [MARMINCA]), the Program for Demining in Central America (el Programa de Apoyo al Desminado de CentroamÈrica, [PADCA]), and the Inter-American-Defense Board (IADB) (Junta Interamericana de Defensa, [JID]).
The main objective of the testing was to evaluate the performance of seven different detectors, two of which are presently used in Nicaraguan demining, as well as five other detectors which were shown by the IPPTC to have promise when used in areas with soil that makes it difficult to detect mines. At a minimum, each detector was evaluated against a set of standard metal objects as well as inert landmine targets of concern for Nicaraguan deminers. Targets were buried at 5- cm, 10-cm, 15-cm, 20-cm, and 25-cm as measured from the surface down to the top of each target. The prime factor that was considered in this evaluation was probability of detection (Pd) and, secondarily, the accompanying false alarm rate (FAR).