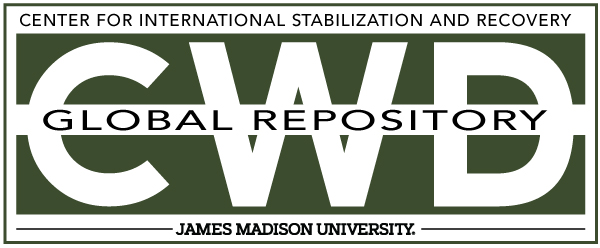 Creative Commons License

This work is licensed under a Creative Commons Attribution-Noncommercial-No Derivative Works 4.0 License.
Keywords
ERW Clearance, AP Mine, Neutralization, APMINUD, Mechanical, Demining, Christopher Wanner, HD R&D
Abstract
This report describes the results and analysis of the field test of the Improved Anti Personnel Mine Neutralization Device (APMINUD). This is the second test of this equipment and follows a six month design and engineering effort on the equipment to correct and improve upon deficiencies identified in the initial version of the APMINUD.
The APMINUD is a mechanical tool designed to safely detonate antipersonnel landmines as part of a peace time clearance operation. The APMINUD consists of a mobile blast and fragment containment shell, with a mechanical striker inside. It can be used in conjunction with a shielded, all terrain vehicle with crane. The vehicle is used to move and lower the shell over a marked mine location. The internal striker is released and impacts the mine or ground above the mine and actuates the pressure fuze. The blast and fragments from the detonating mine are contained within, or are directed out the top of the shell and away from surrounding personnel and equipment.