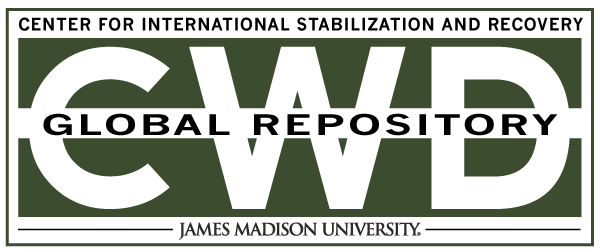 Creative Commons License

This work is licensed under a Creative Commons Attribution-Noncommercial-No Derivative Works 4.0 License.
Keywords
centers and organizations, USAID, Leahy, victim assistance, rehabilitation, cambodia
Abstract
Evaluates project to establish rehabilitation centers for people disabled by war in Cambodia. Interim evaluation covers the period 1996-10/01. Veterans International/Cambodia (VI/C) is the implementing agency. VI/C's USAID-funded rehabilitation efforts are providing highly successful and valuable interventions for people with disabilities. The grant support has enabled people with amputations, spinal cord injuries, cerebral palsy, polio, and a number of other pathologies to receive high-quality rehabilitation and prosthetic and orthotic services. Numerous patients have had significantly positive functional and social outcomes, with particularly good outcomes for patients with amputations and clubfeet, and good outcomes for those with polio and spinal cord injury. The quality of rehabilitation services for patients with cerebral palsy or for those who have suffered a stroke could be improved. Rehabilitation services are accessible to individuals with disabilities in three areas at the centers based in Phnom Penh, Kratie, and Prey Veng. An additional unit in the far North (Preah Vihear) is now self-supporting. The coordination of NGO rehabilitation services in Cambodia through the Disabilities Action Council (DAC) with a variety of subcommittees has been very effective in minimizing overlap among services and ensuring communication between NGOs. The physiotherapists and prosthetics and orthotics (P&O) personnel have mid-level professional standards with diploma entry-level education. The professionals have good technical skills for developing country standards, but lack the flexibility required in situations that involve complex patients or when adequate medical/surgical diagnostics have not been completed. The lack of clinical decisionmaking skills, lack of solid theoretical foundations, and minimal exposure to a variety of treatment alternatives result in difficulties with efficiency, prioritization and progression of patient treatment. The professionals employed by VI/C have the potential to be Cambodian leaders, but will need further professional mentoring and continuing education opportunities to develop their skills. The community follow-up services are intended to provide accessible support for patients after they have received rehabilitation or delivery of devices. The methods in which these services are delivered are not ensuring the objective of enhancing the functional goals of patients. The entire focus of the community follow-up services, communication of goals, personnel delivering services, and assessment of efficacy needs to be revisited. The medical and surgical support services at the two rural facilities of Prey Veng and Kratie are insufficient to support the needs of the rehabilitation facilities. Developing these services locally would greatly enhance the efficacy of services at these units.