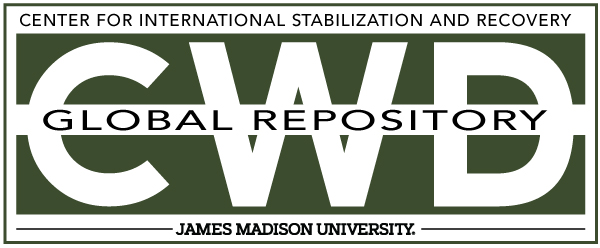 Creative Commons License

This work is licensed under a Creative Commons Attribution-Noncommercial-No Derivative Works 4.0 License.
Publication Date
Fall 9-2006
Keywords
Advocacy and International Law, Cambodia, Humanitarian Mine Action, ERW Clearance, Mine Action, Landmines, Netherlands, Michiel van Bokhorst
Abstract
This research describes the evaluation of the HMA programs that are funded by the Netherlands for the period 1996–2004, specifically on their embeddedness into a broader development strategy. Embeddedness is defined as the extent in which other humanitarian objectives and programs are attached, combined or integrated with HMA programs. Embeddedness has increasingly attracted attention, because landmines and ERW are a direct threat to individuals and communities, but also indirectly by being a barrier for short-term emergency interventions and long-term development efforts. Nevertheless the Netherlands does not directly mention embeddedness of HMA in neither its HMA policy paper nor its 2003 macro policy paper on development cooperation. Seven countries are selected for research, Afghanistan, Angola, Bosnia and Herzegovina, Cambodia, Eritrea, Laos, and Mozambique, on the basis of the extent and duration of funding, and interesting landmines and ERW features. The funded programs in those countries are mainly in line with the Dutch policy priorities. Embeddedness in a broader framework for sustainable development of the funded programs was an issue in different extents. The available information gives clues that embeddedness became more important during the years, for both donors, as recipient countries and NGOs. Exact information on socio-economic outcome and impact of the programs is not available, so the valuing on the criteria was very qualitative and reliant on the reports of NGOs and UN organizations. A strict judgment on the value of the embeddedness is therefore not possible. Embeddedness was quite clear in most countries on paper, but not always in practice. Most embeddedness of HMA is on relief, recovery, rehabilitation and development. The impact of HMA is often safe and sustainable return of refugees and IDPs, and renewed development opportunities.