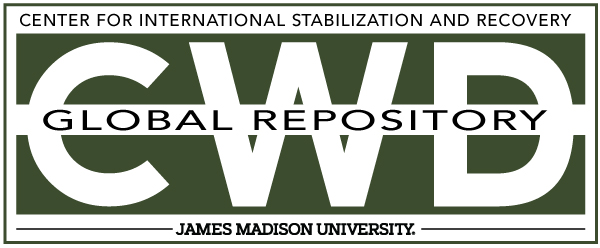 Creative Commons License

This work is licensed under a Creative Commons Attribution-Noncommercial-No Derivative Works 4.0 License.
Keywords
Centers and Organizations, ITF, Annual Report, 2018, Stockpile Destruction, Mine Action
Abstract
The goal of the Mine Ban Treaty (1997) can't be clearer: a landmine free world and a safe environment for generations to come. But more than two decades after international community agreed to firm norms and objectives that were achieved through the Ottawa Treaty process, landmines and other explosive remnants of war still indiscriminately impact human victims, often years and decades after the end of armed conflicts. As of November 2018, sixty states and areas remain contaminated by antipersonnel mines, with worrying numbers of civilian casualties, especially children.
Everyday life near contaminated areas is harsh and uncertain. People often knowingly risk their lives just to ensure minimum subsistence for themselves and their families, living in dangerous proximity of active minefields. Due to this ruthless reality, it is our moral obligation to help millions of people affected by landmines and to work tirelessly to provide humanitarian assistance to them.
ITF Enhancing Human Security has been a part of the mine action community for more than two decades, with important results in more than 30 countries around the world. Since 1998, when the Government of the Republic of Slovenia established ITF, its scope of activities has expanded from minefield clearance and mine victim assistance to a wider area of disarmament and human security, with a great number of excellent and important projects in Europe, the Middle East, Central Asia, South America and West Africa. The role that ITF successfully played in post-conflict reconstruction is key at creating safe environments and enabling people, especially victims, to reintegrate into societies and continue living safe and decent lives. With over 440 million USD of donations entrusted to ITF and over 3,100 programs and projects implemented, ITF today is recognized as a trusted and reliable partner in humanitarian mine action globally.
ITF continues to operate in demanding and often dangerous environments, helping those in greatest need. The Ministry of Foreign Affairs of Republic of Slovenia is proud that ITF has become an internationally reputable institution in the fields of demining, disarmament and humanitarian assistance. As one of the most successful Slovenian foreign policy institutions, our Government will continue to support ITF, as it has done so from the beginning, in the implementation of its noble humanitarian mission.