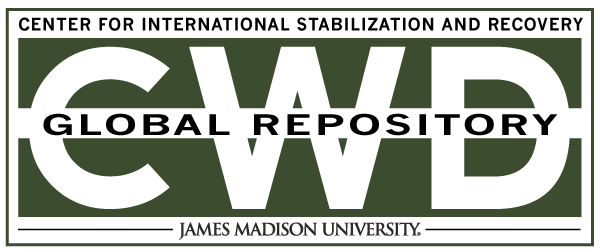 Creative Commons License

This work is licensed under a Creative Commons Attribution-Noncommercial-No Derivative Works 4.0 License.
Keywords
ERW Clearance, Advocacy and International Law, HALO, MAG, NPA, APMBC, Mine Ban Treaty
Abstract
Key Findings:
In 2019, a global total of more than 131 square kilometers was cleared of anti-personnel mines, with more than 96% of recorded clearance occurring in States Parties to the APMBC. However, this total is a marked decrease on output in 2018 of more than 155 square kilometers, and was the lowest recorded clearance globally for more than ten years. The true total area of clearance is probably considerably greater, but data recording and reporting problems prevent accurate reporting of a higher figure, in addition to a lack of transparency by several States not party.
In total, almost 164,000 emplaced anti-personnel mines were destroyed during clearance and explosive ordnance disposal operations (EOD), an increase compared to 153,800 in 2018. In addition, 39,700 anti-vehicle mines were destroyed during clearance of anti-personnel mined areas in 2019, a slight increase on the 38,500 destroyed the previous year. When considered together with the area of land cleared, this might indicate more targeted and efficient clearance was achieved in 2019.
No clearance was recorded or reported for 2019 in eight States Parties: Cameroon, Cyprus, DR Congo, Eritrea, Mali, Mauritania, Nigeria, and Senegal. A small amount of mined area was, however, cancelled through non-technical survey in Cyprus and reduced though technical survey in Senegal. Some clearance, including in spot tasks, may also have occurred but which was not reported.
No State Party fulfilled its APMBC Article 5 obligation to survey and clear all mined areas containing anti-personnel mines in 2019, but Chile declared completion in February 2020. Since entry into force of the APMBC in 1999, 33 States (all States Parties to the APMBC, except for Nepal) and 1 other area (Taiwan) have completed mine clearance.1 Mauritania was on this achievement list last year but has since reported newly discovered mined areas under its jurisdiction or control and is seeking a new extension to its Article 5 deadline.
As at 1 October 2020, 57 States and 3 other areas were confirmed or suspected to have anti-personnel mines in mined areas under their jurisdiction or control,2 an overall increase of one State on the previous year. While Chile was removed from list, Mauritania and Mali3 were added. Of the 57 affected States, 35 are party to the APMBC. As at 1 October 2020, three of the 35 States Parties (Cameroon, Mali, and Nigeria) did not have a legal Article 5 deadline in force, but have ongoing Article 5 obligations due to new contamination from the use of anti-personnel mines of an improvised nature by non-State armed groups on areas under their jurisdiction or control. These States must therefore request an extension to their previously expired deadlines and submit Article 7 reports detailing the new contamination and clearance of anti-personnel mines of an improvised nature. In addition, Eritrea's Article 5 deadline expires on 31 December 2020 after it was granted an interim extension at the Fourth Review conference in November 2019. However, as at 1 October 2020 Eritrea had yet to request a deadline extension.