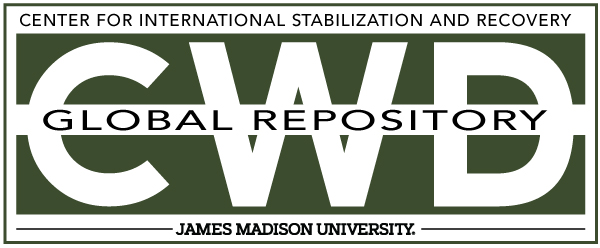 Creative Commons License

This work is licensed under a Creative Commons Attribution-Noncommercial-No Derivative Works 4.0 License.
Keywords
Centers and Organizations, 2019, Annual Report, International Campaign to Ban Landmines, Cluster Munition Coalition, ICBL-CMC
Abstract
In 2018, the International Campaign to Ban Landmines – Cluster Munition Coalition (ICBLCMC) encouraged the universalization and full implementation of the Mine Ban Treaty and Convention on Cluster Munitions, with a focus on three goals:
No more use of landmines or cluster munitions
A significant decrease in land contaminated by landmines and cluster munitions
Measurable progress in the quality of life for victims of mines and cluster munitions
The ICBL-CMC's unique advocacy value is rooted in contributions from a campaign network spanning over 100 countries, and operationalized through the Investing in Action program of support to national campaigns and the annual publication of the most comprehensive research data on landmines and cluster munitions – the Landmine and Cluster Munition Monitor reports.
As we look back on 2019, we find ourselves immersed in a new operational reality and mindset that challenges the steady gains made by the mine action community, and the very well-being of key actors in that community including landmine and cluster munition survivors and those most vulnerable to the COVID-19 pandemic and other disasters.
In this context, the work undertaken in 2019 takes on a special importance in that the progress made and action plans undertaken now offer us a solid ground from where to test new ways to conduct advocacy, to hold our meetings and discussions, to support communities affected by landmines and cluster munitions, and to ensure that the rights of survivors and persons with similar needs are protected.
As the world confronts a challenge demanding the combined and coordinated multilateral efforts of numerous partners to ensure human security, the ICBL-CMC redoubles its commitment to achieving a world free of landmines and cluster munitions, through collective humanitarian efforts by civil society, states, intergovernmental institutions, and other experts. It is in this spirit that we worked in 2019 and will continue to do so throughout 2020 and beyond.