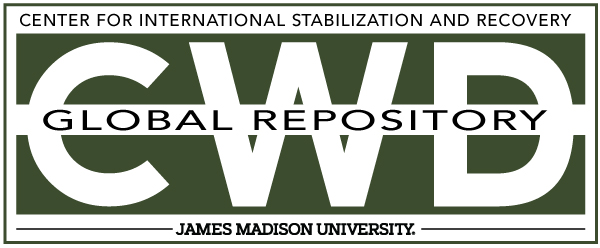 Document Type
Presented Paper
Creative Commons License

This work is licensed under a Creative Commons Attribution-Noncommercial-No Derivative Works 4.0 License.
Keywords
Risk Education, Anne Stewart, Wayne Reed, Mozambique, Landmine, Humanitarian Demining, Mine Action Information Center, MAIC, Center for International Stabilization and Recovery, CISR, JMU, James Madison University
Abstract
Mine Awareness Education Module - Mozambique is based on information acquired through a variety of expert sources. The document incorporates information gathered through
• a review of ecological theories,
• an extensive review of existing humanitarian demining mine awareness and prevention programs,
• a review of effective strategies of community-change efforts,
• and interviews with persons conducting mine awareness programs in Mozambique and other sub-Sahara countries.
In addition, interviews and briefings were conducted with personnel from the Office of the Assistant Secretary of Defense, Special Operations/Low Intensity Conflict, US. Army Special Operations Command, 4th Psychological Operations Group and Special Operations Command, Europe (SOCEUR), U.S. Embassy - Mozambique, National Demining Commission of Mozambique, and Handicap International.
Using multiple data sources and adopting an ecological perspective of mine awareness programming will help ensure that the module will provide theoretically grounded, comprehensive, and relevant information for the reader.