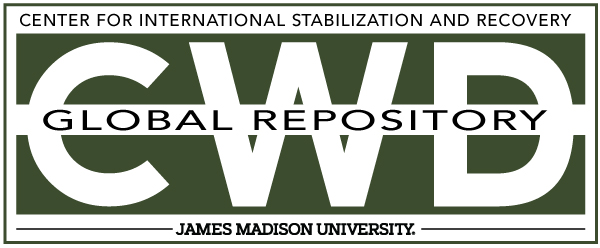 Creative Commons License

This work is licensed under a Creative Commons Attribution-Noncommercial-No Derivative Works 4.0 License.
Keywords
ERW Clearance, GICHD, Anti-personnel Mine, Landmine, Risk Education, GICHD
Abstract
Access to relevant information is vital to the establishment and operational effectiveness of any clearance and risk education programme designed to alleviate the effects of explosive remnants of war (ERW). Where that information is available, it can have a direct and almost immediate impact on operations, and helps to ensure that the threat from ERW is dealt with efficiently, mitigating the risk for civilians. However, the type and level of information needed will vary depending on the parties to the conflict, nature of the conflict, and the location of ERW. Information, such as the nature of the munitions used and their aim points, is extremely useful to the organisations involved in post-conflict clearance and risk education operations. This information assists in establishing the size of the operation, identification of the assets required for the problem, training requirements, resource mobilisation, and prioritisation of tasks.
The information required to assist clearance and risk education operations is generally available to most parties to a conflict. The issue is ensuring that accurate information is released in a timely manner and in a useable format. Failure to release the information by the military means that humanitarian organisations have no alternative but to try to find the answers themselves, as the information is essential to the safety and effectiveness of their work. This inevitably has significant resource implications, not just in terms of cost for field surveys, or in the substantial amount of time involved, but potentially also in human lives and limbs that could otherwise have been saved. Where survey work is required because of the lack of information, the risks are raised that an accident will occur within the civilian community; not knowing or not being informed that a munition has been used can lead to important messages not being passed to the local communities leaving them in greater risk.
Supported by the Coordinator for ERW, the GICHD undertook a study on the Information Requirements for ERW. The aim of that report was to inform States Parties of what those currently engaged in clearance and risk education operations believe are their information requirements. This discussion paper summarises the main findings of that report.