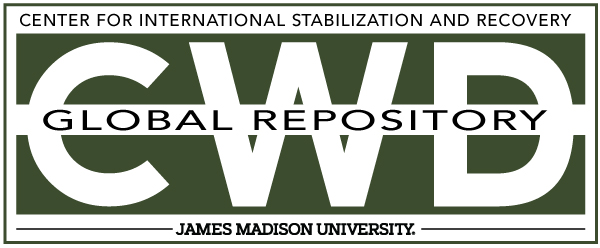 Creative Commons License

This work is licensed under a Creative Commons Attribution-Noncommercial-No Derivative Works 4.0 License.
Keywords
Centers and Organizations, Advocacy and International Law, ICBL, CMC, Cluster Munitions
Abstract
The 2008 Convention on Cluster Munitions is a legally binding international treaty that comprehensively prohibits the use, production, stockpiling and transfer of cluster munitions, requires destruction of stockpiled cluster munitions within eight years, and clearance of contaminated land within ten years. It recognises the rights of individuals and communities affected by the weapon and requires states to provide assistance. The Convention also obliges countries to assist affected states to fulfil their obligations.
The Convention was signed by 94 states when it opened for signature in Oslo, Norway on 3 December 2008. Sixty percent of the world's states have now joined the Convention on Cluster Munitions including stockpilers, former users and producers of the weapon as well as the majority of affected countries. An up to date list of states that have joined the Convention is available at www.stopclustermunitions.org Following the deposit of the 30th instrument of ratification on 16 February 2010, the Convention entered into force on 1 August 2010.
The Convention on Cluster Munitions is a historic achievement. The strength of the treaty is largely due to the prohibition on cluster munitions as an entire category of weapons. The negotiators rejected proposals for broad exceptions from the ban and for a transition period during which cluster munitions could still be used. The obligations relating to victim assistance are groundbreaking; they demand the full realisation of the rights of people affected by cluster munitions and require states to implement effective victim assistance measures. The Convention is already contributing internationally to the increasing stigma against cluster munitions. It is hoped that no state or non-state armed group, including those states that have not yet joined the Convention, will ever use cluster munitions again.