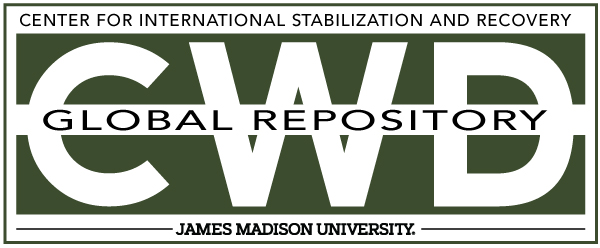 Creative Commons License

This work is licensed under a Creative Commons Attribution-Noncommercial-No Derivative Works 4.0 License.
Keywords
Centers and Organizations, 2016, Annual Report, International Campaign to Ban Landmines, Cluster Munition Coalition, ICBL-CMC
Abstract
In 2016, the International Campaign to Ban Landmines and the Cluster Munition Coalition (ICBL-CMC) played a vital role in universalizing and promoting the implementation of the Mine Ban Treaty and the Convention on Cluster Munitions. Progress was achieved through systematic and clear articulation of state-by-state challenges and advocacy at the national and international levels, and through regular support to campaigns members by staff.
With a strong focus on reinforcing the stigma associated with the use of antipersonnel landmines or cluster munitions, the ICBL-CMC tracked the useof these weapons, providing the evidence needed to support an international outcry against instances of use. Based on the evidence collected by ICBL-CMC members, success was achieved in restricting the types of cluster munitions used by the Saudi-led coalition in Yemen –first through the suspension of cluster munitions transfers from the United States and later through pressure by the UK government on Saudi Arabia to prevent the use of UK-made cluster bombs. This work also contributed to the decision by Textron, the world's largest cluster munition producer, to stop producing this weapon, thus ending all cluster munition production in the United States.
The CMC also contributed to the further universalization of the Convention on Cluster Munitions, playing an instrumental role in adding two new States Parties--Cuba and Palau--and in advancing the ratification or accession process in several other countries.
Through ongoing clearance, stockpile destruction and programs to address the needs of landmine and cluster munition victims, steady progress was made in 2016 in eliminating the impact of these weapons. However, this progress occurred despite a challenging global context of armed conflict and insecurity. Comprehensive monitoring and reporting carried out by the Landmine and Cluster Munition Monitor alerted the international community to the increased use of improvised landmines by non-state armed groups and the rise in annual casualties from landmines and explosive remnants of war, largely stemming from protracted and acute conflict, and helped to sustain and rally international support to tackle these challenges with a renewed focus.