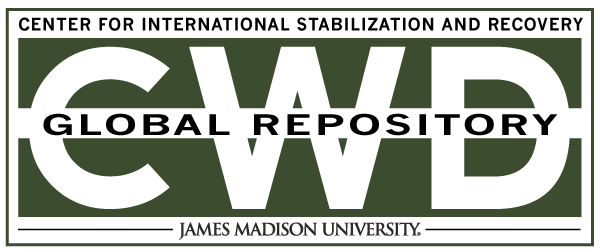 Creative Commons License

This work is licensed under a Creative Commons Attribution-Noncommercial-No Derivative Works 4.0 License.
Keywords
TWEIS, Risk education, Victim Assistance, ERW clearance, Conventional Weapons Stockpile Destruction, Advocacy and International Law, Centers and Organizations, State Department, Humanitarian Mine Action, Landmine, Clearance, Victim Assistance, Risk Education, Funding, 2021, CY2020
Abstract
2020 was a year of exceptional challenges for the Department of State due to the COVID-19 pandemic. Nonetheless, the United States remains the world's largest international donor to CWD, providing more than $4 billion to support humanitarian mine action (HMA), physical security and stockpile management (PSSM), and associated activities in over 100 countries since 1993.
Despite the pandemic, the United States was able to provide significant cooperation on a range of programs around the world. Here are a few highlights from 2020:
• The Department provided PSSM assessments in Lebanon following the Port of Beirut explosion on August 4. This led to U.S.-funded upgrades to the Lebanese Armed Forces' First Artillery Regiment ammunition depot to reduce the risk of a catastrophic explosion there.
• In Colombia, the U.S. Agency for International Development's (USAID) Leahy War Victims Fund (LWVF) supported the nongovernmental organization (NGO) Arcangeles to increase access to quality rehabilitation services and promote social inclusion and reconciliation through sporting activities for survivors of the armed conflict and others with disabilities. The Fund also supported International Organization for Migration efforts to strengthen physical rehabilitation services and improve provider networks for these survivors.
• In Cambodia, U.S. Marine Corp Forces Pacific (MARFORPAC) in partnership with the Royal Cambodian Armed Forces conducted two HMA train-the-trainer (TTT) engagements for national capacity building.
• The Interagency Man-Portable Air Defense Systems (MANPADS) Task Force supported MANPADS Recognition Training seminars, using virtual training to assist foreign security officials in their advanced weapons systems counterproliferation efforts. Adapting the course curriculum to this new medium enabled the training of 51 officials from three countries in the Middle East and North Africa region, including security professionals at airports, border crossings, seaports, national police, and customs.
In many places, our implementers have unmatched logistics capabilities that can enhance life-saving efforts. In 2020, several partner states and implementing partners requested use of these U.S.-funded CWD assets to assist with their COVID-19 response. While U.S. laws and regulations require that CWD activities remain the priority for our assets, we permitted their use for certain health and safety-related activities. For example, in Zimbabwe we authorized explosive ordnance risk education (EORE) and community liaison teams to simultaneously deliver COVID-19 pandemic related messaging while they conducted their normal work, and we permitted the temporary use of U.S.-funded CWD drivers and vehicles to help deliver medical supplies, such as the use of an ambulance in Guinea Bissau.
The U.S. taxpayers can be proud of the progress we have made globally during this challenging time. We remain committed to CWD and look forward to reinvigorating our efforts in 2021 so that all may "walk the earth in safety."