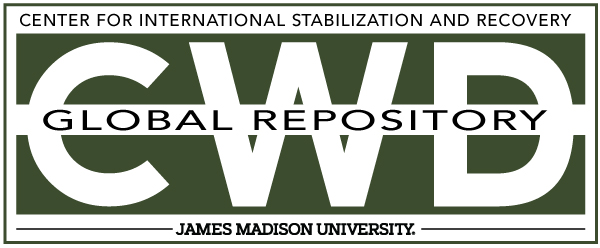 Creative Commons License

This work is licensed under a Creative Commons Attribution-Noncommercial-No Derivative Works 4.0 License.
Publication Date
Fall 10-2005
Keywords
ERW Clearance, Cambodia, Mine Action, Landmines, Mechanical Demining, Southeast Asia, UXO, ERW, Minehound, Arnold Schoolderman
Abstract
In the framework of the in-country trials of the hand-held dual-sensor system Minehound in Cambodia, tests additional to the main trials are executed. In this document two of these additional tests are reported. Both are blind tests. In the first test the ability of the local deminers to discriminate mine-like targets from indigenous clutter with the help of the Minehound is examined. In the second test the ability of these deminers to discriminate adjacently buried low-metal targets and targets that contain a lot of metal, is investigated. These tests were executed mid August 2005 at the test site that was established for the Minehound in-country trials in a recently cleared part of the Lveate mine field, Batambang province, Cambodia, i.e. these tests were performed simultaneously with the first use of the Minehound in the MAG demining operations. Due to the limited availability of suitable targets for both tests, no comprehensive tests could be set up. For this reason the results should be regarded with care.