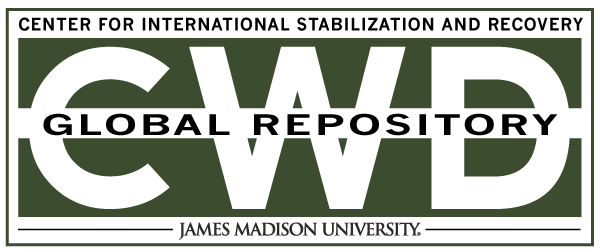 Creative Commons License

This work is licensed under a Creative Commons Attribution-Noncommercial-No Derivative Works 4.0 License.
Keywords
Victim Assistance, ATC, Adaptive Technology, Catalog, CISR, MAIC, Center for International Stabilization and Recovery, JMU, James Madison University, landmine, ERW, injury, PM/WRA, Department of State, State Department
Abstract
By design, the purpose of this Adaptive Technology Catalog is to provide a resource for governments, survivor-assistance and other agencies to help victims of landmines and other explosive remnants of war (ERW) and other disabled workers get back to self-sufficiency and paid work.
Designing, developing and identifying simple and inexpensive tools and programs that assist with survivor work reintegration is a challenge with broad implications for the economic recovery of communities and nations as they emerge from conflict. The Adaptive Technology Catalog was created to offer information pertaining to both products that are readily available for use and those that may require some modification depending on intended usage. We expect this Catalog to be a resource for governments and organizations planning rehabilitation projects and those working in the field of survivors' assistance.
Although this is not an all-inclusive publication, we hope that you find the tools in it useful. It is not a comprehensive catalog by any means. There are certainly many more companies around the world that produce similar products or tools that are even more innovative and practical for the mine-affected population. We invite you to let us know about manufacturers and innovative tools you have created or found to help your survivors recover and reintegrate into society.