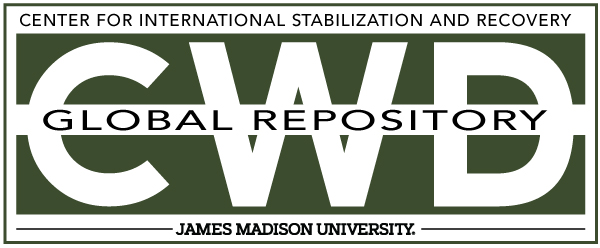 Creative Commons License

This work is licensed under a Creative Commons Attribution-Noncommercial-No Derivative Works 4.0 License.
Keywords
ERW Clearance, Department of State, Department of Defense, The South East Asia Mine Action Cooperation and Technology Workshop, Mine Action, Conference, Proceedings, Thailand, Thailand Mine Action Center, TMAC, Bangkok, Pak Chong, Aranyaprathet, Asia, Mine Dog Center, HALO Trust, World Vision, Chatchai Foundation, CROMAC, International Trust Fund, Geneva International Center for Human Demining, GICHD, CISR, James Madison University
Abstract
The South East Asia Mine Action Cooperation and Technology Workshop was a five-day event co-sponsored by the US Departments of State and Defense, hosted by the Thailand Mine Action Cente,r and organized by Mine Action Information Center of James Madison University. It was held March 4-8, 2002 in Bangkok, Pak Chong, and Aranyaprathet, Thailand.
The workshop goals were, 1) to bring together mine-afflicted Asian countries to share lessons learned and to facilitate closer cooperation, 2) to allow donor nations and organizations a chance to gain an appreciation for landmine challenges in the region, 3) to allow all participating countries to assess mine action roles, linkages, trends, and challenges within SE Asia, 4) to showcase emerging technologies which may be used to speed mine action progress in the region, and 5) to allow mine action non-governmental organizations (NGOs) to discuss best practices in the region.